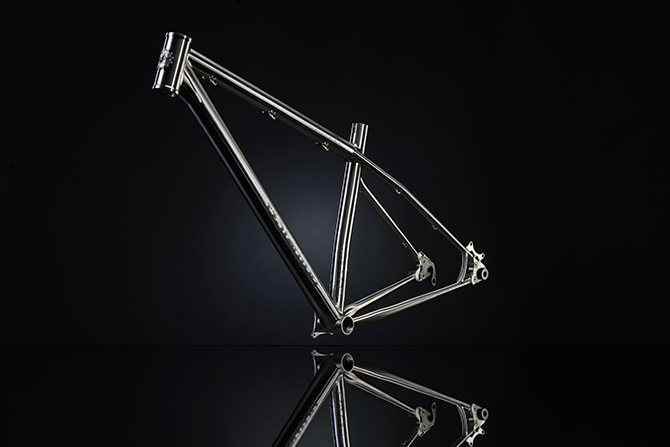 The Switchback Ti is our ultimate weapon!
The Switchback Ti has been in development for the last 3 years and has been designed for those of us who like to ride trail centres with friends and get wild on the the Black Runs, then go race Gravity Enduro's and Mini DH on the weekends.
The Switchback Ti uses a totally new Tube set, designed to be seriously strong in the right places while keeping the frame weight down to 3.8lbs. We selected a Triple butted 3AL2.5V Ti Top tube and Down tube and our custom drawn triple butted seat tube to minimise lateral flex and keep the bike super snappy. There has been no compromise in producing what we consider the pinnacle of modern hardtail design and in our opinion we think it's safe to say nothing on the market at the moment feels, looks or rides this good!
The Switchback Ti has our own custom designed CNC swop-outs, select from 12×142, 10×135 and horizontal dropouts to build the frame to your preferred style.
The Switchback Ti has a strong geometric influence from its award winning 26″ wheeled brother, the Slackline. The Cockpit, bottom bracket hight and chain stay length are all taken from the Slackline and adapted to suit the 650B (27.5) wheel, retaining the snap, acceleration and berm hugging cornering people have come to know and love from Stanton bikes frames.
The Switchback gains its independence not only in the tube set and wheel size but its super slack head angle, at 64˚ static (65.75˚ in the sag) with a 140mm fork this frame will have you ripping through the toughest and steepest technical tarain with ease!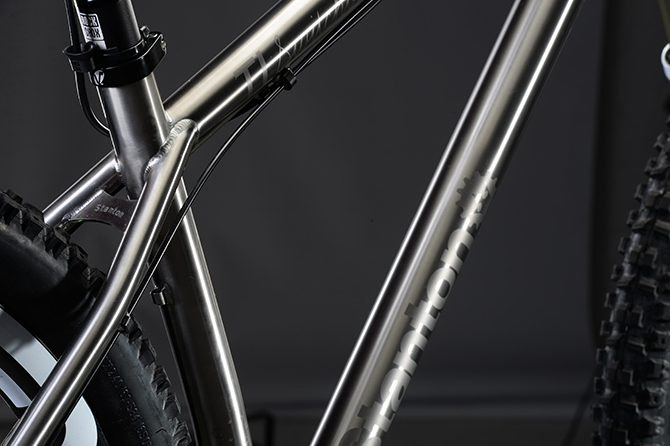 FEATURES
*Tripple butted 3AL2.5V Titanium Top and down tubes
*Custom drawn triple butted 3AL2.5V Titanium seat tube
*3AL2.5V Titanium P.G. seat and chain stays
*31.6 dropper compatible seat tube (34.9 clamp)
*custom CNC'd logo top seat stay bridge
*Gusseted down tube
*I.S.C.G 05 mounts
*custom CNC'd interchangeable dropouts (12×142, 10×135, horizontal)
*Full length gear outer cable
*73mm BB shell
*Pewter head badge
*Brushed Ti finish and bead blasted graphics
* Advised max tyre size 2.3
GEOMETRY
*Head angle 65.75 degrees
*Seat angle 72.5 degrees
*Head tube 44mm
*Headtube lengh 110mm on the 16.5″ and 120mm on the 18″
*Seat tube length 16.5" and 18″
*Seat tube internal diameter 30.9mm and 34.9 seat clamp
*Actual top tube 22.25" on the 16.5" frame, 23″ on the 18" frame
*Virtual top tube 23.25" on the 16.5" frame, 24″ on the 18" frame
*Chain stay length Actual 415mm
*Bottom bracket height 315mm
*Frame weight, 16.5″ Switchback is 5lbs 5oz
All measurements are taken with a 140mm travel fork at 25% sag
RRP is £1599 we are currently taking preorders/deposits of 50% to secure your frame, the other 50% will be requested before delivery.
ETA for the frames is the end of February!
We were at Afan last week shooting the edit for the Switchback Ti, me (Dan) and Josh from Stanton Bikes, Joe and Matt from Capta media and Dan Bateson (7th at Fort Bill 4X ProTour 2014) spent two days in a cloud wet through filming Bateson thrashing through the last stage of the Afan national Enduro course and tearing the new(ish) Bike park Afan apart! He was making the berms scream!
Featured in this Post
Comments