Enduro World Champion To Race At Rotorua Bike Festival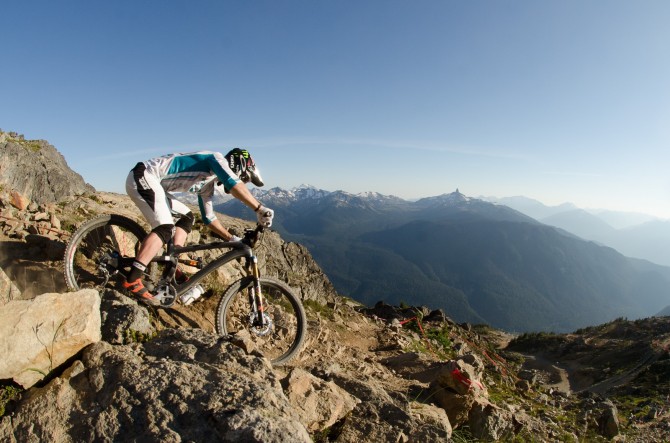 The 2015 enduro season will be getting into full swing at the Rotorua Bike Festival in New Zealand. Not only will Tracy Moseley be there, but so will Jared Graves, getting in vital preparation to defend their EWS titles, with the first EWS round taking place in Rotorua shortly afterwards. Graeme Simpson caught up with Jared to talk to him about the event.
"It's going to be great racing so close to home, instead of the usual lug over to Europe for the start of the season."
That's 2014 Enduro World Series champion, Australia's Jared Graves take on kicking off the 2015 series just cross the Tasman Sea in Rotorua, New Zealand.
The first round is the Giant Toa Enduro and is in the small North Island city, that has already hosted two world championships – the 2006 UCI Mountain Bike & Trials and the more light-hearted Singlespeed Worlds in 2010. The city also boasts over 150 kilometres of world-class trails in the Whakarewarewa Forest.
Graves is looking forward to starting his title defence there in late March.
"Tons of family and friends will be at the race too…cant wait," he said as he took a welcome holiday break back home in Australia after a busy race season.
Graves and Yeti teammate, Richie Rude, are also hoping to race at the 2W Gravity Enduro at the 3rd annual Rotorua Bike Festival in mid-February.
"At this stage, we're planning to come over," Graves added. "I was supposed to race at the 2006 World Champs in Rotorua, but got injured a couple of weeks before."
Even though he couldn't ride he still made it to cheer on a big Australian team and is looking forward to finally sample the Whakarewarewa Forest network.
"I've only heard good things about your trails," he continued with his trademark enthusiasm. "Pretty much everyone I ride with at home here has been there, which makes me wonder why I haven't. They can't say enough good things about what's there."
While the 2W Gravity Enduro at the Festival in February will follow the same exhilarating and entertaining formula as previous events, it will debut a new race HQ. This will be at Rotorua's Blue Lake/Tikitapu, to the east of the city.
With new trails going in around Tikitapu, the bush clad lake and reserve will be a stunning spot for riders to relax and take a dip at the finish.
The new venue underlines how the Festival encompasses Rotorua, its biking community and all biking disciplines.
"The 30 events will run from the slopes of Mount Ngongotaha, to venues in the heart of the city and the Whakarewarewa Forest and out to the Blue Lake," said David Crowley from the Rotorua Bike Festival Charitable, a group of local bike enthusiasts who oversee the Festival. "The ten days will showcase everything that Rotorua biking has to offer."
http://www.rotoruabikefestival.com
facebook.com/RotoruaBikeFestival
Image: Jared Graves In action at EWS round 6 in Whistler (Dave Trumpore).
Featured in this Post

Australia
55,125

48,662
Comments