Pivot Cycles Inks Freeride Pioneer Aaron Chase To A Multi-Year Deal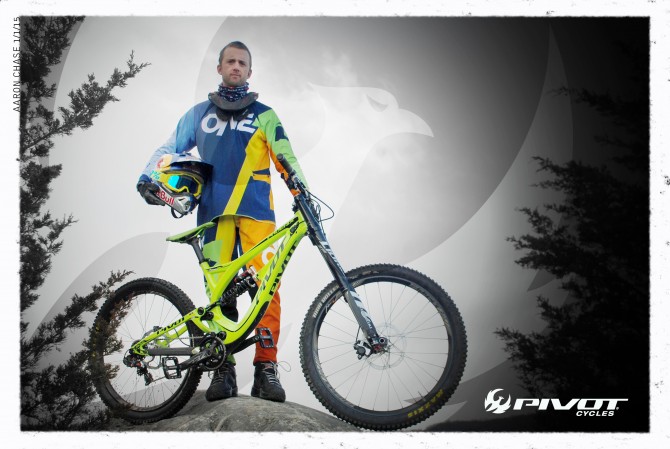 We had heard the rumours and we can now confirm that Pivot have signed Aaron Chase on a multi year deal. Aaron will be mixing it up in downhill, enduro, dirt, slopestyle and freeride, on a host of Pivot's finest bikes.
Pivot Cycles is pleased to announce the addition of Aaron Chase to their roster of riders. Chase, a master in the world of freeride, is best known for pushing boundaries and for his technical and creative style, both on and off the bike. He has graced the covers of countless magazines, stood atop the most sought after podiums and is now best known for his progressive video projects. As a content producer for both GoPro and Red Bull Media House, Aaron's videos have been seen on most major TV networks and his You Tube views number well over 100 million.
A true East Coaster, AC was born and raised in New Hampshire; calling Highland Mountain Bike Park his summer home and spending the remainder of the year at his home in New Jersey at the foothills of Mountain Creek Bike Park. "This is a new chapter, and I am excited to work with the entire team at Pivot. In order to make the kind of videos I'm known for, I need a full line of top tier bikes and the Pivot Cycles quiver that now lives in my garage is unbelievable. It's like opening the door and seeing someone put a couple of Lambos in there. I also have to thank my long time friend Dave Weagle of DW Link fame for making the introduction." explains Aaron Chase.
Chase has signed a multi-year deal with Pivot Cycles. Chris Cocalis, President of Pivot Cycles says "Aaron will bring something truly unique to the Pivot family – his innovative riding style is matched only by his ability to test equipment to its very limits. We look forward to seeing Pivot Cycles in Aaron's incredible Red Bull and GoPro projects and to benefiting from his contributions to our product development process."
Aaron Chase will be riding the new Pivot Cycles Phoenix Carbon DH as his downhill bike with the Mach 6, Point and M4X models for enduro, dirtjump and slopestyle applications. Additional bikes will be added to the quiver as the season and events dictate.
Chase will debut his full range of 2015 sponsors, including his Phoenix Carbon DH at the upcoming Manizales Urban Downhill Race in Colombia, where he will be filming the next video in his renowned Red Bull Media House "Through My Eyes Series".
Keep up with Aaron Chase via Instagram: aaronchase, Twitter: @chaselife and Facebook: aaronchase17.
Find Pivot Cycles at http://www.pivotcycles.com, Facebook: PivotCycles, Twitter: @PivotCyclesUSA, Instagram: pivot_cyclesusa
Featured in this Post
59,265
United States
67,153
Comments