The Syndicate Project – Episode One
Win a GO3 Camera by Insta360 this issue in our FREE subscriber prize draw.
Roll up roll up for The Syndicate Project – Episode One. The start of the season has been tough for the crowd favourites, but that won't stop them! Steve Peat whilst injured has taken up his new role, as the Syndicate cheerleader!
The Syndicate train starts rolling with a 7th by Ratboy and 22nd for Minnaar with torn ligament!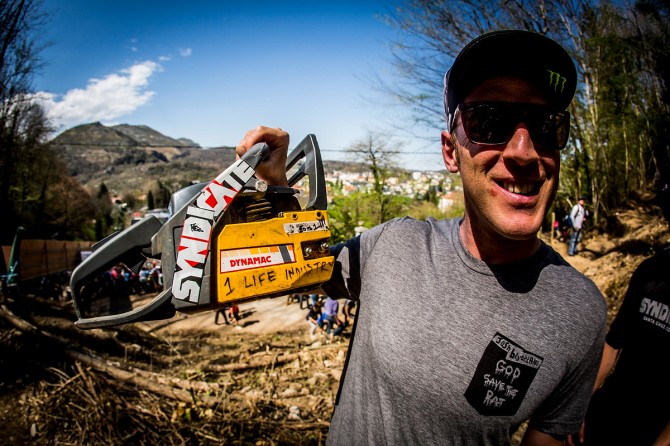 Lourdes on race day was sunny and warm, and fans came out in droves to watch the first World Cup! The course was classic French DH… steep, technical, and scary fast, as you can see from Ratboy's helmet cam video from timed training. Line choice became a nightmare as the tough track became increasingly blown out during the weekend. Simply making it down without a crash, mechanical or puncture became most riders' objective! With Peaty out due to an ACL tear, Josh still nursing his famous foot injury back to race pace, and Greg recovering from thumb surgery only two weeks ago, no one was quite sure what we'd see from Syndicate at the first World Cup. It was quickly evident that both Josh and Greg came to race, with Josh throwing down the third-fastest time in qualifying, and Greg getting steadily faster throughout the weekend. In fact Josh comes into the season already on a flyer compared to last year, where he started his campaign with only a 43rd spot before going on to claim the World Cup title.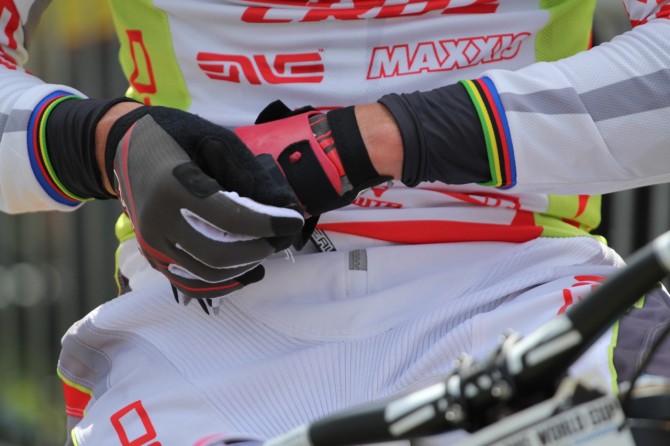 Greg planned to be smart and steady, and made a top-30 finish his goal, in light of his hand injury. He was riding great, but partway down the track the strapping on his brace came loose. He backed off the throttle just a bit, but crossed the line with a time that would put him in 29th if everyone remaining finished ahead of him. As we saw, there were a mess of flat tires, which boosted Greg to 22nd. "A few weeks ago I told the doctors I would be racing in 2 weeks time, and now I've done it. I feel that I had quite a good run considering my injury and I improved my time each day. I'm pretty confident that it should be healed up for the next World Cup in Ft. William."
Josh was third-to-last on course due to his strong qualifier, but Aaron Gwin (USA) broke the 3 minute barrier early in the day and was almost four seconds faster than anyone else in the end. Josh was running in second place through the first two splits, but a few mistakes cost him precious time. Given that it was his first race back, he was in good spirits, saying, "I'm quite happy with 7th place with the run I had and I felt I rode well and was pushing it. With a really solid qualifier the points add up to 5th in the overall rankings. This is a great way to start the season. My foot is sore so I need to take it easy a bit as I really asked a lot of myself the last few weeks."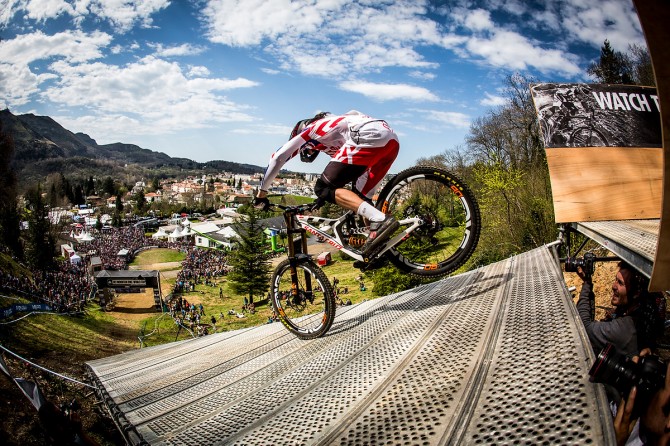 Images courtesy: Sven Martin.
Featured in this Post
Comments