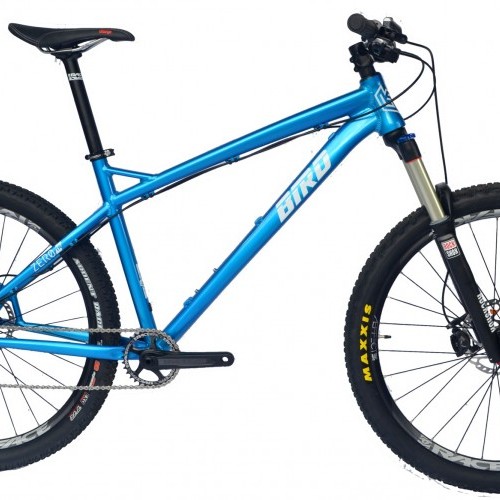 Announcing The Bird 2016 Hardtail Range
Tue 12th Jan, 2016 @ 6:30 pm
We all love a good hardtail! Small but up and coming British bike manufacturer Bird Cycleworks have announced two new hardtails for 2016: The Zero.AM and Zero.TR. Bird's chief engineer, Dan Hodge, gives us the low-down on the new recruits and what customers can expect from riding a Bird.
The New Zero.AM
Designed for a 140mm or 150mm fork, the Zero AM is Bird's new hardcore hardtail.
Using the same tubeset as the original Zero, Bird have updated the geometry and sizing to bring it into line with their test-winning Aeris 140/150mm full suspension bike.
The Zero.AM is longer, slacker and lower than the original, and built to shred the roughest of trails, tackle the big jumps, and generally hoon around on.
Dan Hodge, Engineering Director and Frame Designer for Bird Cycleworks:
"The Zero AM is the spiritual successor to the original Zero hardtail. Having spent over a year riding the 2014 Zero, we listened to rider feedback and came up with a wish list of how to develop the bike further. It quickly became apparent that one new bike wasn't going to be enough to satisfy our requirements, and so we ultimately decided to split the Zero into two models. The TR, a lightweight trail focused model with 130mm forks and the AM, a more aggressive model designed around 150mm forks. By creating two models, we then had the freedom to craft each one to perfection. We've spent a lot of time riding both since summer 2015 and are stoked by the results.
Alongside the geometry and performance updates we've also increased the number of frame sizes from 4 to 5, in order to give every customer a better fit."
Zero.AM Key Features:
Reworked sizing: Medium Size has a reach of 436mm and 615mm ETT, combined with a 30-50mm stem for razor sharp handling without feeling cramped. New XL model provides a new 478/660mm frame for bigger riders.
Slack head angle (65.4), short chainstays and low BB ideal for pumping berms, jumps and generally misbehaving on.
Available in two colours – Stealth Black and Acid Yellow.
The Zero.AM range starts at £1225. All models are customisable through the Bird website: http://shop.birdmtb.com/zero-am.html
The highlight of the range is the Zero.AM-GX; Full SRAM GX 11 speed drivetrain, Sweep HLR Forks, Guide Brakes, RaceFace, Hope and Maxxis and finishing kit, all for just £1375.
Zero TR
Optimised for a 130mm fork, the trail focused Zero TR is 200g lighter than the 2014 Zero at 1.8kg.
Dan Hodge, Engineering Director and Frame Designer for Bird Cycleworks:
"When designing the Zero TR we wanted to create the perfect trail centre hardtail. Modern riding is very different to even 10 years ago, with trail centre riding now dominating the calendars of many bikers. We wanted the TR to reflect that shift, and worked towards making a bike designed for the style of trails you're likely to find at the UK's most popular riding sites. A bike that could cover ground quickly, carry speed through corners and would climb efficiently; an all-day hard tail that would be able to mix it up with the full suss bikes on the big descents, while keeping it light enough for the big climbs. We developed new custom butting profiles for the top and down tubes and removed as much material as we could from the rest of the frame. We developed a sleeker look and thinned and reshaped the seat and chain stays in order to reduce the harshness that is associated with Aluminium frames.
The geometry is the key ingredient to the ride of the Zero TR. The long chain stays and top tube provide a longer wheelbase with huge levels of stability. When developing our new range of hard tails we've developed prototype models that feature adjustable dropouts giving a wide range of chain stay length adjustment. Consistently in testing we ended up at the maximum length not the minimum, going against the current trend in ever shortening chain stays. By stretching them out we found that we gained a lot of what we like about 29ers, with extra traction in corners and climbing, a smoother ride and less 'torquey' power delivery, but without sacrificing the agility of the 650b wheel size."
Zero.TR Key Features:
Longer reach with the front axle where it should be: Medium Size has a reach of 447mm and a 625mm effective top tube, combined with a 30-50mm stem for razor sharp handling without feeling cramped.
Slack head angle: 66.2°static, 68° sagged, in the perfect range for steering sensitivity – not too steep and not too slack, combined with a low BB and good front-to-back weight distribution for great climbing and unbeatable descending.
Thinned and re-shaped seat and chainstays for a more comfortable and compliant ride.
Available in two metallic colours – Matt Tungsten and Gloss Candy Blue. Full builds weigh from 23lbs, with an average build weighing around the 25lb mark (measured).
The Zero TR range starts at just £999 is available with 1×10, 2×10 and 1×11 drivetrains. All models are highly customisable to give the customer a perfect ride straight out of the box through the Bird website – http://shop.birdmtb.com/zero-tr.html
The highlight of the range is the Zero TR2, which features the new Shimano XT M8000 11 speed drivetrain for £1275.
Featured in this Post
Comments