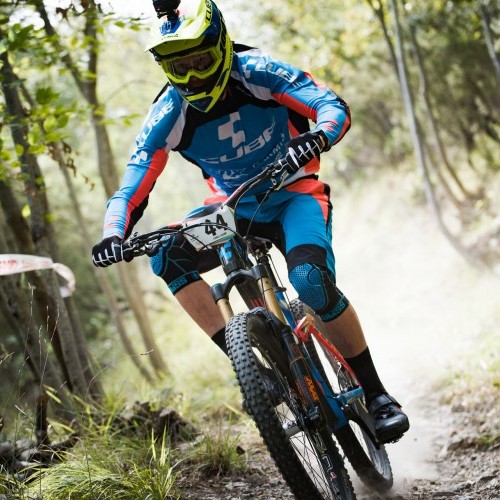 CUBE At The Munster Enduro Series & POC Scottish Enduro Series This Weekend!
Sat 12th Mar, 2016 @ 9:30 am
CUBE Munster Enduro Series Fully Booked For This Weekend!
The CUBE Munster Enduro Series are about to start. On March 13 the first Series will take place in the enchanting forest of Kilalloe. With six categories and 120 entries available the Series offer a chance to everyone to ride locally on beautiful and challenging trails. With the race being sold out before the official closing of the registration, it is safe to say it's reached its goals.
For CUBE the involvement in the series underlines the love for the sports. With its own Enduro team launched five years ago, CUBE was one of the first major manufacturers to be name sponsor of a professional team. This season CUBE continues its investment in the sports on a professional level and expands its involvement by supporting events for recreational riders and enthusiasts.
"Our bicycles are aimed at a wide audience, we want to offer a good bike to everyone. We love to see CUBE riders having fun on the trails!"

– Jarno Hoogland, CUBE marketing and mountain bike fanatic.
Enthusiasts are more then welcome to support the riders at Kilalloe, Co. Clare. The CUBE Munster Enduro Series will continue on April 17 at Mallow, April 24 at Ballyhoura and September 4 at Tracton. For more information, please visit: http://www.facebook.com/munsterenduroseries
POC Scottish Enduro Series Announces CUBE to be Supporting Partner
There are more positive noises coming from the promoters of the Scottish Enduro Series just now. Frazer Coupland from the Series announced:
"We are delighted that CUBE will be a supporting partner for the series, having CUBE as a supporting partner will help cement our position as the UK's premier enduro series"
With round one of the series already sold out and entries for round two filling up fast, it is clear that when it comes to great riding and great value, riders and industry are heading to Scotland.
CUBE added:
"As one of the first major bike manufacturers we launched an international enduro team five years ago. Supporting the Scottish Enduro Series is another way to support enduro riding in general and this event in particular. The Scottish Series are always very popular and attract riders from a wide region. The trails are demanding, making them the ideal playground to show off the potential of our full suspension bikes."
With CUBE confirmed as the supporting bike partner the 2016 Scottish Enduro Series takes another step forward. Alongside improvements like the use of roll in/out timing, professional medical training for marshals and introduction of the rider ambassadors the SES continues to raise the standards for enduro racing. CUBE are renowned for their involvement supporting some of the world's top enduro racers and their support of the SES demonstrates their commitment to the sport at every level of racing.
The series kicks of in Dunkeld in a little over two weeks, early reports from the organisers are indicating that riders can expect a "physical but fun" weekend with a variety of stages to challenge rider and machine. The series will test participants in some of Scotland's well known enduro locations as well as offering opportunities to ride new venues and sample new trails like Dunoon in September.
Featured in this Post
402,599
Sweden
167,167
Comments