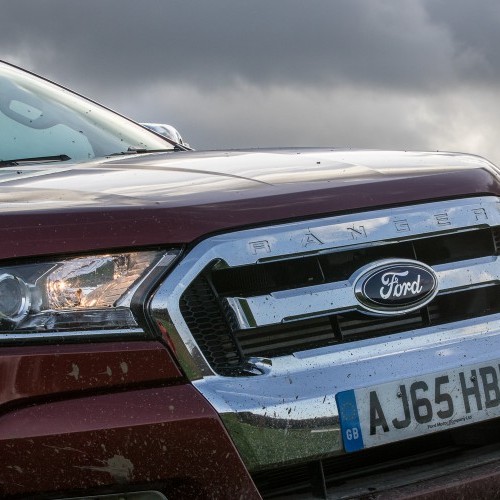 The New Ford Ranger
Thu 24th Mar, 2016 @ 9:30 pm
Here at IMB we get invited to a lot of press launches over the course of the year, but as you would expect they are mostly bike orientated affairs surrounded by a bunch of like minded journos from around the world. Last week I found myself on the receiving end of a presentation accompanied by a very unfamiliar crowd of writers from the van and commercial vehicle press. Feeling slightly insecure about my knowledge of the inner workings of the motor car, I had arrived in the south of England for the launch of the new Ford Ranger. Swapping two wheels for four, I was there to drive and test the capabilities of this new pick-up truck, and get it very dirty, at least on the outside.
With trail head car parks starting to look like showrooms for the shiniest of vehicles, it's clear that mountain bikers have cash to drop on nice wheels, with vans and trucks becoming de rigueur. The practicalities of commercial type vehicles for our sort of activities is obvious and many of these vehicles are now marketed towards leisure users. The checked shirts may carry over from the trade world, but the back of these vehicles are now crammed full of carbon rather than timber.
The new Ranger is a serious piece of kit, hopping in for our first drive it was like sitting in a luxury car, not a pick-up. Leather upholstery, heated seats and touch screen displays are all part of the high end finish and it was hard to imagine ever getting something this fancy off road and in the dirt. Out on the road there are plenty of features including Lane Keeping System, Forward Collision Alert and Adaptive Cruise Control. Although I never forgot I was driving a big vehicle, it drove extremely well and felt easy and intuitive to drive through town and on the motorway. Acceleration was impressive and handling was predictable and fun, never feeling sluggish or hard work.
The Ranger is available in two engine sizes, 2.2 and 3.2 litre which kick out 160 and 200PS respectively. Automatic gearbox is an option and a huge range of choice is available for finishing kit from the XL model through to the Wildtrak. Cab options include Regular, Double and Super Cab depending on how many friends you want to take with you and the flat bed is available open, with a roller cover or a hard top.
Once we had finished our road test it was time for some off-road fun. Having not driven off road for years, I wondered how much things might have changed, and how a comfortable and posh truck would handle the mud. With 230mm ground clearance, 800mm wading depth and happy on angles up to 28 degrees, it turns out that steep mud and water would be no problem. We played around testing the limits and I found that with all the fancy new controls, driver input is very minimal. With features such as anti-stall, I found myself with feet off the pedals letting the Ranger do it's thing whilst casually chatting about the interior trim, cruising slowly and leaning at a more than precarious angle. Providing the correct gear is selected and you point it the right way, it looks after itself and takes you wherever you want to go. There would be no excuse to not get out riding with one of these, and it's hard to imagine an uplift track that couldn't be conquered.
With all the options available you could choose to rack bikes on the flatbed, get them covered under the hard-top or hang them off the back. I can easily see why this type of vehicle could be great for bikes, it munches miles on the motorway, then can claw its way up any mountainside. Dirty kit can be thrown in the back, and the only problem is deciding how to keep the rather luxurious interior clean…
Model: Ford Ranger Wildtrak Double Cab 3.2 TDCi
Price: from £31,349
Engine: 3.2-litre 5-cyl turbodiesel, six-speed manual
Power/Torque: 198bhp/346lb ft
0-62mph: 10.6 secs
Top speed: 109mph
Economy: 34.0mpg
CO2/BIK tax liability: 218g/km/37%
Comments