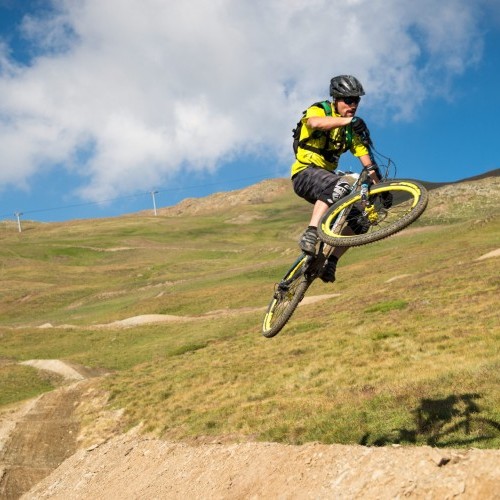 Building An MTB Trail – Blueberry Line In Livigno
Thu 23rd Jun, 2016 @ 9:30 pm
Win a Hassle'Off Multi Tool this issue in our FREE subscriber prize draw.
We ride them all the time hard and fast, giving them hammer, skids (naughty!) and occasionally planting our faces in to them, but whereas we get to go home and clean up the trail sits outside all day, all night awaiting its next beating. Praise be to the guys and gals who spend their precious time building and repairing all the world's mountain bike trails – check this awesome example out in Livigno, Italy.
"They worked under unexpected weather conditions. They sweated during an entire month of unstoppable rain that brought also some incredible snowfalls. But they made it!"
On Saturday, June 25, with the opening of the bike trails of the Mountain Park Carosello 3000 Livigno, the beginning of the season news will also present a new trail: Blueberry Line.
The wait is over. On Saturday, June 25, at Carosello 3000 Livigno comes the time for mountain biking. Bikers will be finally able to vent their desire for freedom on the new trails of the flow country style and on some of the existing natural paths (while some high-altitude paths have yet to be completely cleared of the snow still lying in the hollows). To reach the top, bikers can use both gondola lifts: Carosello 3000 in San Rocco area and Livigno Center.
The beginning of the season news is a new bike trail named Blueberry Line, the flow trail that winds through scenic glades and woodlands. The trail, with the length of 1,8 km, the vertical drop of 200 meters of and the average slope of 11%, was made this spring, fighting unusually adverse weather conditions, that is incessant rain, cold and incredible out of season snowfalls. But eventually the timing was respected and now the summer has arrived in Livigno. Thanks to its rhythm, a sequence of berms and the presence of special features (always flanked by "chicken-ways" solutions for the less experienced), the new trail will be a wonderful surprise for all bikers. An experience comparable to finding of blueberries in the woods.
Meanwhile, until midnight of Friday, June 24, on the website of Carosello 3000 Livigno the "Early Rider Multi-passes" will be available. Multi-day tickets (usable also on non-consecutive days) can be purchased directly online with discount up to 30%.
This summer's MTB event is 3K Up & Down scheduled for July 24. It is not a real competition, but a day to experience freedom on a loop of 10 km with 1000 m of vertical drop where 150 participants will give chase to Lupato Brothers. Info and registration on the event web-site.
With 20 km of newly constructed MTB trails (and others being planned), in addition to 20 km of existing nature paths and various trails dedicated exclusively to hikers and trail runners, the Mountain Park Carosello 3000 appears as one of the largest and the most organized areas served by ropeway in Italy and Europe where one can enjoy outdoor sports.
Comments