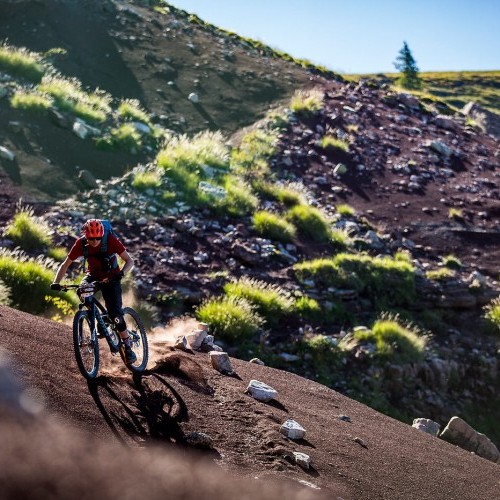 Mavic Trans-Provence 2016 /// Red Wilderness Truckin'
Thu 23rd Jun, 2016 @ 9:30 am
Win a Full Tire Insert Kit from Rimpact! this issue in our FREE subscriber prize draw.
Day 4 of Mavic Trans-Provence 2016 was a short, sharp blast (by TP standards!) for riders as they dropped huge elevation from camp in Valberg, the first three stages and liaisons plummeting 1,400m before a shuttle and climb back up to 1,600m elevation.
From here, in the time it takes to say 'skids are for grown kids,' the course then plunged 1,000m via loose, loamy and at times exposed trail to arrive at the bar – a firm staple of TP days – in time for a late lunch of beer and ice cream (proper mountain biker nutrition).
Mulling over the somewhat raucous morning – the ride ended several hours earlier than the previous day – most riders were surprised how tired they were. USA's Marco Osborne (WTB/Cannondale) put it down to the extreme concentration levels in the long, rock-concealing grasses; Switzerland's Ludo May (Canyon Factory Enduro Team) decided it was the heavy braking on the steeper gradients; UK's Bry Watt (Booze Cruise) put it down to straight fear (exposure is an element of any TP race).
With the loose ground conditions and high consequences, anyone would think the pros might have ridden well within their limits. The results sheet shows otherwise though – the first five were within 25 seconds over more than 23 minutes of timed stages.
Overall race leader Nico Lau (Cube Action Team) did suffer today, however. The French rider took a spill on Stage 15 (the third special of the day) and lost vital seconds in his assault on the race overall. Francois Bailly-Maitre pounced on this opportunity and took the day's win, in doing so cutting his overall deficit to Lau to 18 seconds. The two Frenchmen are at heads as we move into the last two days of 2016 TP racing.
Having suffered mechanicals in the first days of racing, the UK's Mark Scott (Santa Cruz x SRAM) found his form on Day 4, finishing the day a joint 2nd with France's Yoann Barelli (Giant Factory Off-Road). Matti Lehikoinen (Nukeproof/Mavic) took a stage win on 15 and 4th on the day, with Marco Osborne rounding out the top five.
The battle in the women's category continues among Ines Thoma and Carolin and Anita Gehrig, with Anita taking the Day 4 win, Carolin 2nd and Ines 3rd. The overall is seriously hotting up – just 14 seconds separate Ines, Carolin and Anita, in that order.
Day 5 of racing is the BIG one – over 65km with an enormous 4,300m of descending as the TP tour moves from Valdeblore to Sospel.
Read up on Day 3 of the 2016 Mavic Trans-Provence
Featured in this Post
Comments