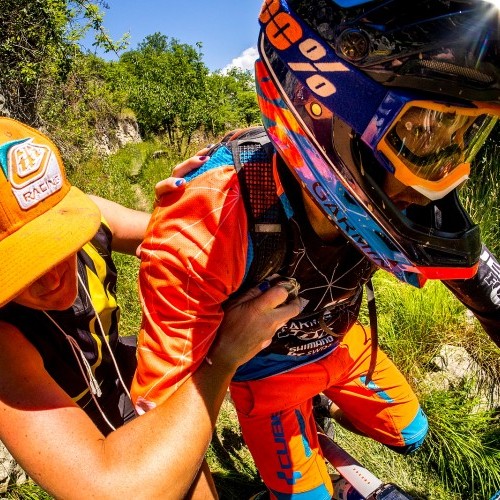 Mavic Trans-Provence 2016 /// Valley Hopping
Fri 24th Jun, 2016 @ 9:30 am
Win a GO3 Camera by Insta360 this issue in our FREE subscriber prize draw.
Blood, spills and more rapid riding. Day 5 of Mavic Trans-Provence 2016 set off bright and early from Valdeblore in a bid to make it over 65km to the final mountain camp of the event in Sospel.
The day's stages took in a range of terrain from super tight switchbacks up high to wide-open speed nearing the end. The surroundings were just as varied too – from vibrant forest early in the day to near desert later. It truly was a day that epitomised the spirit of TP racing. Those 4,300m of descending won't be forgotten soon.
Having tightened up at the top in the overall standings after Day 4, reigning TP Champ Nico Lau seriously stepped on the gas on Day 5. Lau's crash the day before clearly did not phase the Frenchman as he put the hammer down to take three of four stage wins. A navigational error on Stage 18 looked to put his lead in jeopardy once again, but it seems he built such a buffer over the other three stages that he needn't have worried. Lau won Day 5 by a full 20 seconds.
Nico continues to lead the overall from Day 5's runner up Francois Bailly-Maitre; his dominant riding opening the gap to over 30 seconds. Bailly-Maitre is going to have to work hard to close down on Lau on the final four shorter stages. Marco Osborne remained consistent to take third on the day and the same position in the overall, with Gustav Wildhaber and Greg Callaghan rounding out the day's top five.
As with the men's racing, Ines Thoma also took the opportunity to stamp authority over the race, winning Day 5 by 23 seconds to second-placed Anita Gehrig. Katy Winton upped her game having 'learnt to ride switchbacks' during her week with TP, and rounded out the top three. Ines' lead over Gehrig sits at an impressive 37 seconds – although that is over a combined time of nearly three hours of stage racing this week!
The sixth and final day of 2016 TP racing heads out of the mountains and to the shores of the Mediterranean, with four stages raced over 42km and nearly 3,000m of descending.
Read up on Day 4 of the 2016 Mavic Trans-Provence
Featured in this Post
Comments