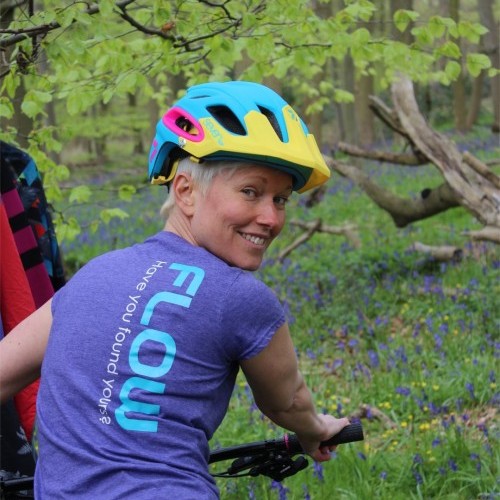 Flow MTB – The New Women's Specific Mountain Bike Clothes Store
Sat 18th Jun, 2016 @ 9:30 am
MTB clothing for ladies! Very welcome news for women's mountain biking as new store, Flow MTB, steps in to offer female-specific apparel and protection from top brands Fox, ION, Sombrio and more, in a range of properly useful sizes that won't leave you begrudgingly trying to fit into a small pair of men's shorts.
Flow MTB is a new online store, selling women's specific mountain bike (MTB) clothing, accessories and protection and offering ladies an extensive choice of brands and sizes, which would otherwise be hard to find. Owner of FLOW, Anita Hartley, decided to set up the business after her own frustrating attempts to find female specific MTB clothing and equipment and realising how universally limited the options were for her.
"I love riding my bike, it's my passion and I admit it I want to look good on the bike and wear clothing that fits me properly; clothing that's made to fit a woman. Being small I can't fit into small men's gear which I know a lot of female riders do, but why should we? Every website I went to I'd filter for MTB and whilst I'd be presented with a long list of clothing as soon as I filtered for ladies the list would shrink to single figures. It's the same when I go into a bike retail store, there's always rows of men's MTB apparel but go to the ladies section and its road clothing with a token gesture of MTB.  OK so the populous of our chosen sport whether that's AM, enduro, downhill or freeride leans heavily towards men but the times are changing and the ladies MTB scene is growing year on year."
So knowing the brands she liked made women's apparel she began to contact them and in January 2016 Flow was born.
Flow's aim is to support the growing number of women taking up the sport. Providing a central shopping hub where they can browse and buy their favourite brands in the sizes they need with ease. They've already secured brand partnerships with Fox, Sombrio, ION, Raceface, Dakine and Flare Clothing and the range of women's specific apparel and protection available on their website is impressive.
For female mountain bikers Flow MTB is great news, a dedicated website store just for you!
To find out more visit the Flow MTB website at: http://flowmtb.co.uk
Like us at: https://www.facebook.com/flowmtbapparel/
Follow us at: https://twitter.com/flowmtbapparel
#findyourflow
For further information please contact Anita Hartley, anita@flowmtb.co.uk
Tel – 0779 121 8113
Featured in this Post
Comments