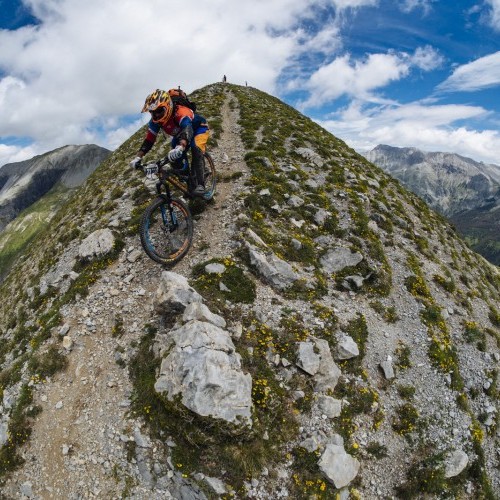 Mavic Trans-Provence 2016 /// Grey Earth & Big Vert
Wed 22nd Jun, 2016 @ 9:30 am
Best trail ever ridden? Such was the awesomeness of day three of the Trans-Provence that Nico Lau and Matt DeLorne seemed to think so.
From their overnight stop in Colmars, 2016 Mavic Trans-Provence riders took another early start to shuttle into the high mountains from where Day 3's 48km tour would start.
Dropping in to the first special of the day, Stage 9 (non-timed), riders took a freefall deep into the valleys of the Mercantour Park, from where the real work would start. Stage 10's access climb had been the talk of the previous night – it had definitely made an impression on those who rode the event in 2015!
Beginning with 400 vertical metres of moderate-gradient pedalling, riders were taken in to the higher reaches of the Park and an area of great natural beauty only accessible by one's own power. Flowering meadows, long grasses, enormous views and nature at its greatest made the climb pass quickly for the majority of riders. Even for those tiring at the mid-way point of the TP race it would all be worth it when things started to point downward.
"One of the best stages ever"
– Nico Lau, Cube Action Team
"Best trail I've ever ridden"
– Matt DeLorme, Pinkbike
These comments reflect the feelings of more or less every rider who rolled into the mid-race feed station.
Things didn't get any less epic as riders moved down to lower altitude trails for the afternoon. Stage 11 took an altered route through the famous Grey Earth area before a hike-a-bike took riders back to altitude to finish the day with the endless series of tight switch-backs that was Stage 12.
While Nico Lau's lead in the overall race standings remains untouched, Day 3's result shows that he could have a race on his hands as we move into the second half of the week. Yoann Barelli lit things up and put 12 seconds into Lau, in doing so taking the day's win. Lau, in 2nd, had American Marco Osborne nipping at his heels just six seconds back in third.
The previous day's winner women's winner Carolin Gehrig had to settle for 3rd on Day 3 but the winning streak stayed in the family, with her sister Anita taking the day win. Ines Thoma had to settle for 2nd on the day, but retains her lead in the overall standings.
Day 4 leaves camp high up at Valberg and plunges into nearly 3,000m of descending over 33km to end at Valdeblore.
Read up on Day 2 of the 2016 Mavic Trans-Provence
Featured in this Post
Comments