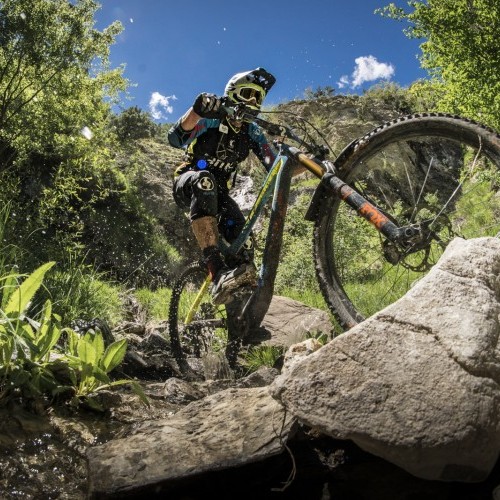 Mavic Trans-Provence 2016 /// The Alpine Verdon
Tue 21st Jun, 2016 @ 9:30 am
Win a Hassle'Off Multi Tool this issue in our FREE subscriber prize draw.
After the mud, snow and dust of day 1 of the Mavic© Trans-Provence you can catch up with day two's action right here as Nico Lau extended his lead in the mountains of Verdon.
With memories of Day 1 of Mavic© Trans-Provence 2016 racing's snow and cold rapidly fading, racers instead battled the beating sun as they took on four physical stages, with the race moving from Barcelonnette to Villars-Colmars.
The morning shuttle took riders up the twists and turns of the staggering Col d'Allos road, which snakes its way uphill as it clings to the vertical mountainside, summiting at 2,200 metres and ready to start the warm-up traverse.
From the first special of the day – Stage 5 of the week-long event – things got tough, fast. A combination of what in the past was two separate stages, both were linked into one monster for 2016. It was a demanding way to get the day started – classic TP. And things wouldn't get much easier, especially on the arduous 650m climb from 6 to 7. It would most certainly be worth it though – at 11m 28s for stage winner Nico Lau (Cube Action Team), and carving its way though the stunning forest before rocketing across the 45º lower slopes, Stage 7 made for the sort of trail that racers will remember for life.
The day's route finished with a final loop out into the wilds and a 'short' five-minute stage to bring riders home to camp in the Villars-Colmars valley.
In the men's racing the top of the results sheet showed Nico Lau once again forging ahead from the rest, taking three of the four stage victories. The one remaining stage win went to a flying Gustav Wildhaber, who took 2nd place on the day with Francois Bailly-Maitre in third.
Lau extends his overall 2016 TP lead from Bailly-Maitre, and he goes into Day 3 with nearly a minute buffer over his compatriot.
Ines Thoma remains at the top of the women's results sheet, although it looks like she may have a fight on her hands as Carolin Gehrig edged beyond her to take the day's win and solidify her 2nd place in the overall race standings. Gehrig now sits only seven seconds behind Thoma.
Day 3 will take riders on another journey through the pristine valleys and passes of the area as they tackle the longest day yet – 48km riding with over 3,000m of descending as the event moves towards Valberg.
Featured in this Post
Comments