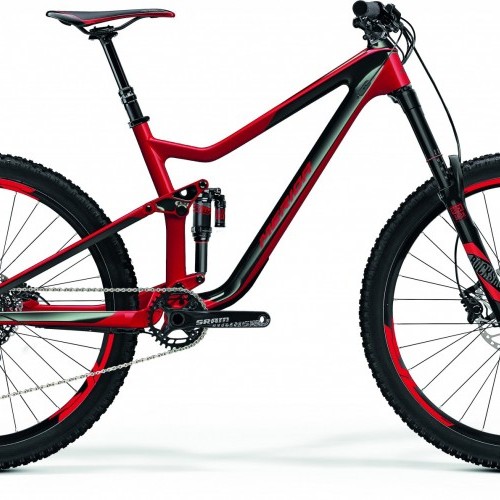 2017 Merida Bikes
Tue 5th Jul, 2016 @ 9:30 pm
Merida is going into 2017 with an extended line-up and a long list of exciting additions in road, mountain bike, urban and e-bike categories.
After a fantastic 2016 which saw real innovations like the superlight Scultura, the World Cup proven Ninety-Six, the introduction of the new Race Link suspension platform and the 'size specific wheeling' concept (just to name a few), 2017 is going to trump its predecessor by a mile.
For 2017 the Merida product line-up will not just see a broadening of its offering with certain models being available in two wheel sizes and either with disc or rim brakes (more about that later) but also an impressive amount of new models, some of them introducing segments Merida has not been involved in.
Merida has traditionally been a racing brand – more speci cally a mountain bike racing brand – and 2017 will see the very exciting 're-birth' of its flagship race hardtail, the Big.Nine/Big.Seven.
BIG.NINE / BIG.SEVEN
XC JUST GOT INTERESTING.
Five years in development, our R&D team, supported by the experience of our MULTIVAN MERIDA BIKING TEAM, had just one goal: to create the fastest MERIDA-race hardtail of all time. Available in aluminium and carbon fibre versions, the carbon models represent the highest technological competence of our designers and engineers. Our top level CF5 frame weighs just 900g, dropping below its predecessor's weight whilst also improving on comfort. Many new technologies are incorporated to improve the BIG.NINE/BIG. SEVEN in other areas. The Boost-standard provides greater wheel stiffness.
An aerodynamic downtube profile provides the potential for more speed. New chain stays with an even lower pro le and carefully shaped seat stays improve comfort. 'Smart Entry' keeps cables and hoses neat and rattle free. The new geometry, featuring a shorter head tube, increased reach and shortened chainstays, paired with the single chainring drivetrain options, are perfectly tailored towards its intended purpose as our new race hardtail. The new BIG.NINE/BIG.SEVEN comes in the 29er BIG.NINE version and the 650b BIG.SEVEN version. Both are available in three different frame versions – superlight
CF5 carbon frame, followed by the more 'budget friendly' CF3 carbon frame all the way to the LITE aluminium option. All together 8 carbon and 4 aluminium bikes are available.
THE NEW BIG.TRAIL.
JUST FOR FUN. NOTHING ELSE.
Going into a completely different direction than our BIG.NINE/BIG.SEVEN race hardtail is our new trail hardtail, the BIG.TRAIL – as trail riding is not only fun on a full suspension bike, right? Most of the time there are three main criteria in deciding to go for a MTB hardtail: as low as possible weight – this is critical when racing is your focus –, low maintenance due to less moving parts or simply that similar speci ed hardtails are cheaper than comparable full suspension bikes. All these points may apply to our new BIG.TRAIL, but they are not why our new toy made it into our 2017 line-up. The main reason is Fun! New 650b+ wheels with high volume tyres really shine when the trails become more demanding. Paired with a healthy 130mm of travel up front, a low and long geometry and an Enduro style slack head angle, the BIG.TRAIL is ready to surf through trails almost like a modern trail full suspension. Thanks to the short chain stays, the Boost-standard wheels, dropper post and single ring drivetrain, this modern aluminium hardtail is super playful. Three aluminium models will be available in the BIG.TRAIL line-up.
THE NEW ONE-SIXTY.
GET HEAVY. STAY LIGHT.
But it's not just our hardtail section that will see some great changes for 2017. One – if not the biggest – innovation for the upcoming season is our 'from the ground up' newly developed ONE-SIXTY. This new Enduro bike is the hottest full suspension project since the creation of the cross-country rocket the NINETY-SIX.
Our intention was to push all the bounda- ries in the world of Enduro-biking and use all of the latest thinking, technology and componentry. Thanks to its carbon main triangle and brand new 6013 Aluminium rear triangle, our complete frame comes in at just over 2,500g! Its aggressive geometry with super short 430mm chain stays, long reach (445mm*) and slack head angle of 65.3° makes the new ONE-SIXTY an uncompromising 'full throttle' Enduro machine. Our 'Float Link' suspension set up delivers a bit more rear travel than the model name suggests, and paired with a 170mm fork this is a chassis worthy of the highest accolade.
eBIG.TRAIL: The ultimate fun machine.
Nome nest omen: The eBIG.TRAIL does not just take its name from the human- powered BIG.TRAIL. It follows the ethos of being the perfect partner for your next trail extravaganza. On mighty 650b+ tyres our 130mm aluminium hardtail rolls over pretty much anything you can throw at it whilst maintaining its playful character. All down to a perfectly adjusted geometry – for an E-Bike it has impressively short chain stays measuring just 435mm. Powered by the new Shimano STePS E8000 eMTB-motor, the eBIG.TRAIL delivers power and endurance far beyond what trail fans have been able to experience.
eONE-TWENTY: Because every long day in the saddle has its ups and downs.
With its character closely related to the hugely versatile mid travel full suspension ONE-TWENTY, our 120mm full suspension Pedelec combines all the positive attributes of the human powered version with the leading electric mountain bike motor technology. Powered by the latest Shimano E8000 STePS motor with its off-road focused character and long lasting 500Wh battery, the eONE-TWENTY turns trail surfing into an uphill discipline. With its mighty 650B+ tyres, Boost-standard wheels and agile, confidence inspiring geometry (below 440mm long chain stays and a long top tube) – our eONE-TWENTY is up for any challenge. All this makes the eONE-TWENTY the ideal partner for any Pedelec-fan who enjoys the ups as much as the downs.
eONE-SIXTY: The playful Enduro bike with built in shuttle service.
Enduro bikes are rst and foremost fun bikes with climbing ability and lots of reserves for when the going gets rough. Our engineers have taken the brand new ONE-SIXTY and added a built in shuttle service: the eONE-SIXTY! The eONE-SIXTY with its all-aluminium frame delivers all the latest features like com- plete internal cable routing with 'Smart Entry' cable access. Due to 650b+ tyres, Boost-standard wheels, Shimano E8000 STePS motor and fun focussed agile and playful geometry (the reach for a M frame is 440mm) our eONE-SIXTY is a thoroughbred Enduro full suspension and scores as highly as the non-powered ONE-SIXTY when it comes to trail fun.
eBIG.NINE/SEVEN: The omnipotent SUV amongst the MERIDA-Pedelecs.
Our engineers have managed to create the perfect balance between moderate commuting bike and sporty MTB with our eBIG. NINE and eBIG.SEVEN models – and all that at an impressive weight of approx. 18kg. Powered by an intelligent mixture of STePS E8000 battery (500Wh) and 'Light Offroad' E6000 motor, the eBIG.NINE/SEVEN enable you to combine the daily commute with a sporty trail detour on the way home. The completely new frame has modern additions like front and rear through axles and Boost-standard to further improve wheel stiffness. Even with their sporty geometry our eBIG.NINE/SEVEN are Pedelecs that can be turned into the perfect day to day machine by adding mud guards and a rear rack.
eNINETY-NINE: Gives your sporty ambitions an extra boost.
Whilst our eBIG.NINE/SEVEN hardtails manage the perfect balance of day to day usability and sporty heritage, our eNINETY-NINE does exactly the same in the full suspension Pedelec category. Due to its sporty geometry, low stand over height and 100mm front and rear travel, our E-29er manages any challenge with ease. The ability to fit mudguards and even a stand clearly show its all-purpose character. In particular the very low weight of just 19kg makes this a real E-bike for all eventualities. The eNINTY-NINE is powered by the proven Shimano E6000 'Light Offroad' motor combined with the new E8000 500Wh battery, allowing the rider to add an extra little loop at the end of the ride.
Featured in this Post
Comments