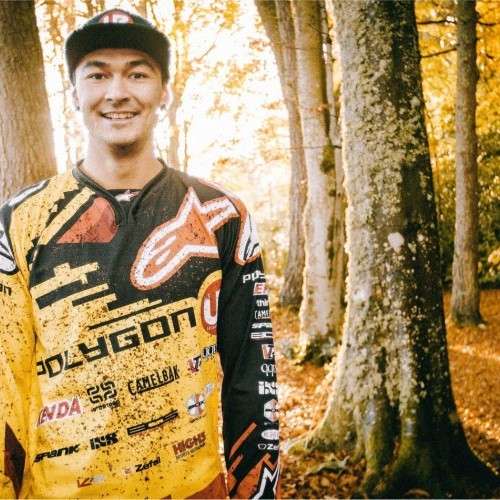 Kenta Gallagher – Welcome To The Polygon UR Family
Wed 28th Dec, 2016 @ 3:30 am
Win a Peaty's Complete Bicycle Cleaning Kit this issue in our FREE subscriber prize draw.
Privateers, sit up and take note – you can become a sponsored, team rider with the right stuff and a positive approach. Just take a look at Kenta Gallagher who's been snapped up by the Polygon UR Team for the 2017 race season after delivering a series of Earth-shattering results as a lone star, gun for hire. Awesome stuff!
"Welcome to the Polygon UR Team family Kenta Gallagher! Kenta has already won a XC Eliminator world cup as a professional XC rider but 2 years ago he decided to stop XC to follow his dream of racing Downhill. In only 2 years Kenta became the fastest privateer racer in the world with already top 20 results! This is what we call passion; stopping everything to do what you really love. Bring on 2017 and enjoy watching Kenta shredding all kinds of bikes!"
Kenta Gallagher – New Polygon UR rider:
"I'm so happy to have an opportunity on a team like this so early into my downhill career. I had planned 3 years maximum to get on a team so for it to come after the second season I'm so happy! Mainly the backing and support at races that I think will push me forward and the chance to ride with everyone in a team environment should be great! Roll on 2017! Well excited!"
Fabien Cousiné – Team owner / Rider:
"Last year hiring the fastest privateer rider of the circuit was a really good decision because with Alexandre Fayolle we've got some amazing results with even a world cup podium and i have a similar feeling for Kenta!

"As a former privateer world cup racer i remember the struggle , so what Kenta has done in just 2 years is to me something really special."
For Kenta to step back from a professional XC career with a stable life to having to work part time in a cafe to go race DH as a privateer is to me one the highest sign of passion and dedication for the sports that i ever seen.
So that is a real pleasure to support him and I'm very confident that Kenta will fit perfectly in the " Dream Ride Share " team spirit with his positive, laid back and hard working attitude. "
Featured in this Post
Comments