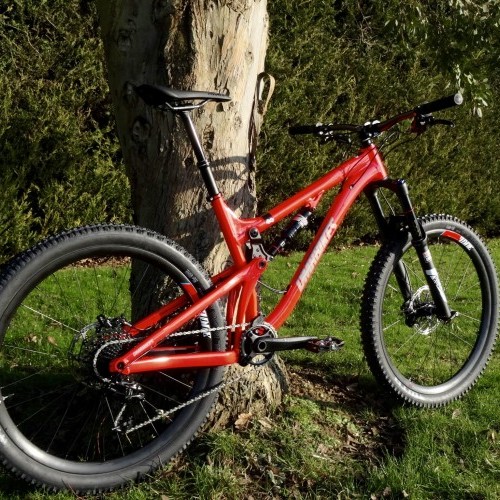 First Look- DMR Sled
Sun 22nd Jan, 2017 @ 12:09 pm
Anyone who remembers playing in the woods in the 90s will know the heritage behind DMR, but what happens when you no longer want to ride a dirt jump bike or a hardtail. Maybe you've grown up and ride trail bikes these days, but want bike that really means something to you and takes you back to your youth. In comes the DMR Sled, a bike ready for anything and built on a solid foundation and history of durable, solid and above all fun bikes.
160mm front and rear, the Sled takes the Orbit link found on the Bolt and adds a linkage to give a virtual pivot system. Numbers are modern but not ground breaking, with a 65.5 head angle for smashing descents and a 74-degree seat angle to get you back up in comfort. Reach numbers on the Large are 462mm and the back end is a short 430mm, keeping things long and short were they should be.
Other features include a custom tuned Monarch RT3 Debonair, and massive collet-style pivot hardware to keep it all super stiff. The back end is boost, keeping it modern, but the bottom bracket is threaded, keeping is traditional. All cabling is internal to keep it all looking sleek, and the only water bottle mount is under the downtube, but you do get a DMR Ride Saver mount on the bottom of the seat tube to stash a tube or other trail tools.
The frame comes in at £1599, and builds will be either SRAM or Upgrade (featuring X-Fusion, DMR and Praxis Works kit)
Featured in this Post
Comments