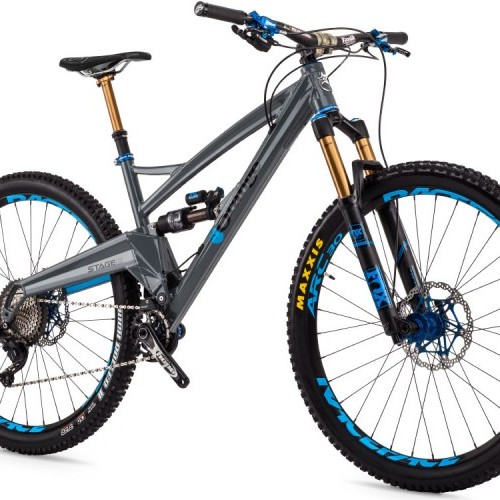 Orange Unleash All New Stage 29ers
Mon 30th Jan, 2017 @ 12:30 am
The big wheel revolution continues as Orange Bikes expands its iconic range with the launch of two radical new 29er models, both aimed at more experienced riders looking for racing-winning performance.
The Stage 5 and Stage 6 are the latest in Orange's lineup of hand-built single-pivot bikes, designed around a 29" wheel but featuring more aggressive geometry for higher speeds on more challenging terrain. In their special 'Launch' editions on show at the Bike Place, both bikes feature Boost spacing, internal routing and high-end parts from Fox, Hope, Race Face and Shimano XT.
The Stage 5 is billed as a seriously fast, versatile trail bike and offers 140mm front and 135mm rear travel, delivered through a frame that's long, slack and low for superb stability and great handling. Meanwhile, the Stage 6 is a race-ready Enduro bike fit for the world's toughest courses. Suspension travel here is 160/150mm, creating a bike that's totally unfazed at very high speeds on the roughest, steepest and longest descents. Both bikes' super-stiff pivots are positioned to complement the latest shock technology, providing controlled suspension performance coupled with excellent pedalling efficiency.
Orange Owner, Ashley Ball, explained:
"We've been developing our Stage bikes for a while, and now we're totally satisfied we've hit the geometry sweet-spot where faster-rolling 29" wheels don't compromise performance on the most technical trails. These bikes redefine what 29ers can do, and they suit experienced riders who want flat-out speed wherever they ride, for leaving their mates behind, ruling Strava, or winning world Enduros."
Stage 5 – Launch Edition – £5500
A special Launch Edition model available in limited numbers introducing the brand new Stage 5 29er
Highlights:
– Handbuilt in Britain
– 5 year frame warranty
– Unique monocoque aluminium and custom formed tubing chassis
– Single pivot suspension for the utmost performance, efficiency and reliability
– Increased length toptube and wheelbase coupled to a shorter stem for high-speed stability29″ tubeless wheelset
– 140mm Front/135mm rear travel
– Fox 36 Factory Kashima 140mm Boost Fork
– Fox Float X2 Factory Rear Shock
– Enduro race honed geometry
– Fox Transfer Factory Kashima 6in Dropper Seatpost
Stage 6 – Launch Edition – £5500
A special Launch Edition model available in limited numbers introducing the brand new Stage 6 29er
Highlights:
– Handbuilt in Britain
– 5 year frame warranty
– Unique monocoque aluminium and custom formed tubing chassis
– Single pivot suspension for the utmost performance, efficiency and reliability
– Increased length toptube and wheelbase coupled to a shorter stem for high-speed stability
– 29″ tubeless wheelset
– 160mm Front/150mm rear travel
– Fox 36 Factory Kashima 160mm Boost Fork
– Fox Float X2 Factory Rear Shock
– Enduro race honed geometry
– Fox Transfer Factory Kashima 6in Dropper Seatpost
Featured in this Post
Comments