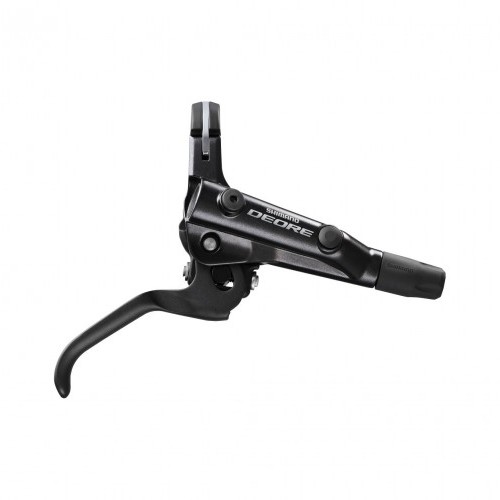 New Shimano 2017 Deore, SLX & XT Components
Wed 22nd Feb, 2017 @ 3:30 am
Taking design cues from the upper end of the Shimano spectrum the new, sleek Deore range has undergone a boost in durability and performance. Already a great option for any level of rider, Deore M6000 may just have grown up to become a go-to groupset for any mountain biker.
DEORE M6000 series
Designed around the concept of performance and leisure, new Deore M6000 is for trail riders and MTB enthusiasts, MTB commuters and outdoor leisure riders who need daily durability to cope with rough roads, rain, sand and the worst that nature can throw at you.
Deore M6000 remains as a 10-speed groupset but with some innovative features for confident, smooth, flexible riding with limitless possibilities.
The 2×10 drivetrain (FC-M6000) adopts the family look of XTR, XT and SLX drivetrains with a sleek four-arm Hollowtech II one-piece composite design in 3 size options (38-28T, 36-26T, 34-24T) and an alternative 3mm outboard Boost version. Meanwhile the 3×10 drivetrain takes on a unique, aggressive look offering 40-30- 22T for a wide range of riding styles. Both drivetrains combine with a new wider range 11-42T 10-speed Dyna-Sys cassette (CS-HG500) as well as three other 11-36/34/32T cassette options.
2×10 and 3×10-speed gear changes are handled by a Shadow RD+ derailleur in the rear (RD-M6000-GS) offering improved chain stability and retention. Up front, three derailleur swing options (top, down and side) can be combined with five types of mount options (high, low, direct mount, e-type and a new mid-type) to offer cable routing and/or satisfy new manufacturing requirements such as rear suspension or tyre clearance.
Shifting operation comes from Rapidfire Plus shift levers (SL-M6000) with a visual display for gear choice. Control comes from new hydraulic brakes with Servo wave high power levers (BL-M6000) and heat insulated callipers (BR-M6000) designed to accommodate Ice Technologies brake pads.
Hubsets (HB-M6000/10, FH-M6000/10) complete the group with a 100x15mm E-Thru axle option at the front and centre-lock mounts for easy rotor installation.
Additional MTB components
Wheel line ups are expanded with two new 29" and 27.5" Deore XT Boost-spec wider e-thru options. The front wheels are stiffer with a 10mm width expansion and a 110×15 e-thru axle whilst rear wheels are 6mm wider with 148×12 axles. New rear e-thru axles (AX-MT700 and AX-MT500) are also added with smaller housing, lighter weight and greater clearance for frame and brake callipers.
In terms of drivetrains, designed at SLX level is a new wide range 11-46T cassette (CS-M7000) for 1×11 set- ups.
At a similar grade to the new Deore group comes a new 2×11 two-piece 36-26T front crankset (FC-MT600) with abrasion-resisting teeth and Dyna-Sys shifting in Boost and Standard dimensions, as well as a new closer step 2×10 36-26T front crankset (FC-MT500). Combined with the FC-MT500 crankset is a hydraulic disc brake set (BR-MT500) offering a non-series version of the Deore BR-M6000 hydraulic brakes. New pedals (PD- ED500) too offer a Deore-grade double-sided light action SPD model.
Featured in this Post
Comments