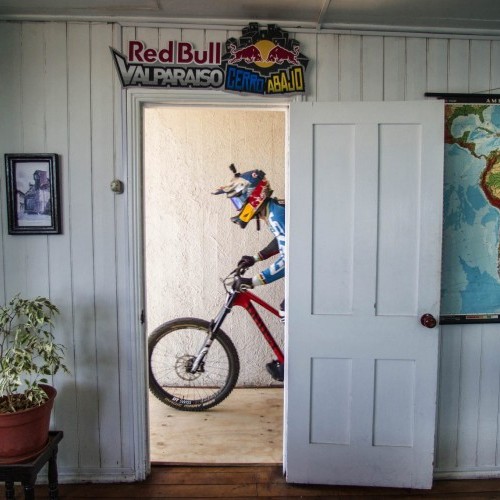 Urban Downhill – The Year Of Slavik 
Tue 21st Feb, 2017 @ 9:30 pm
Czech Republic's Tomas Slavik dominated this year's Red Bull Valparaiso Cerro Abajo, securing his first ever title after a tight race against the clock.
The World Heritage Site saw 40 international athletes compete in a spectacular urban downhill race –celebrating it's 15th anniversary– negotiating some of the most testing corners round the cobbled streets and stairs along the 1.8km course in the coastal port.
It was a record time in the 15th staging of the event, where Slavik clocked a time of two minutes 48.48 seconds to win by just over two seconds from British Bernard Kerr (2:50:56) followed by local favorite Pedro Ferreira (2:52:52), who won the support of the audience.
"I'm stocked. After four years of racing Red Bull Valparaiso Cerro Abajo, I did it. It was a great experience to race against these riders in this beautiful location. I would definitely come next year and I would tell other International riders to come and live this event".

– Tomas Slavik
The 15th edition of Red Bull Valparaíso Cerro, it's hills, steep stairs and particular jumos through houses, demonstrated why this passionate race, has become one of the most recognized urban downhill races of the world.
Results:
1. Tomas Slavik (CZE) 2:48,480
2. Bernard Kerr (GBR) 02:50,560
3. Pedro Ferreira (CHI) 02:52,520
4. Mauricio Acuña (CHI) 02:53,640
5. Matías Núñez (CHI) 02:53,720
6. Adrien Loron (FRA) 02:58,260
7. Logan Binggeli (USA) 02:59,250
8. Oscar Harnström (SWE) 03:01,290
9. Santiago de Santiago (ARG) 03:01,830
10. Felipe Agurto (CHI) 03:02,060.
Featured in this Post
67,852
96,528
Austria
47,790,335
Comments