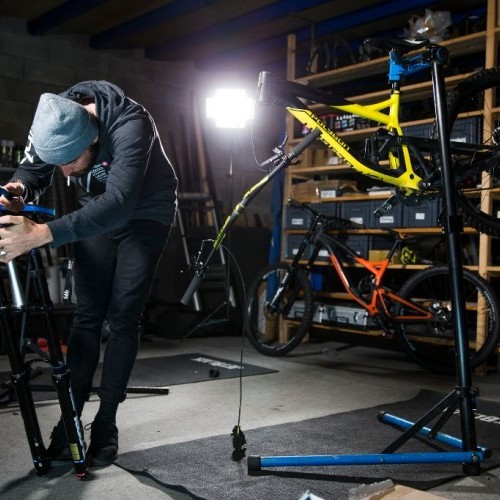 SR Suntour Becomes Proud Partner Of The Polygon UR Team
Thu 2nd Feb, 2017 @ 3:30 pm
Can the latest incarnation of the SR Suntour RUX DH fork displace the ever-presents of Rock Shox and Fox at the top of the triple clamp market? We caught up with the SR Suntour and Polygon UR Team to discuss the development of this latest fork.
Passion motivates. In 2011 the RUX was born to enter the DH suspension world. Its test pilots, Garett Buehler and James Doerfling were dropping big lines in British Columbia in preparation for their first big show at Rampage 2012. The RUX chassis was solid and dependable but refinement was needed.
"The team is really stoked to partner with SR Suntour for the coming years! When the team decided to work with SR Suntour we didn't judge by the reputation, nationality or the size of any company. We are taking the decisions on real facts with the goal of working with the right people and to develop the best products that will make us ride faster in the long run."
For 3 years the WERX team refined the details and in 2015 things were changing with a Women's Junior World championship under Marine Cabirou and a Rampage Gold under Kurt Sorge. Last season came the addition of our R2C2 PCS (piston compensator system) damper earning a bronze medal under Frenchman Florent Payet at World championships, another Rampage podium and Best Trick under Carson Storch.
With solid products we turned to build our WERX support team to match the needs of a growing world class family and the Polygon UR team was a great test of it all.
A few laps in Whistler and some pre-season testing at Bailey Mountain in North Carolina USA with Mick Hannah showed what the RUX can do.
"So looking at the SR Suntour background, you wouldn't think they would be a first choice for a world cup team. But the reality is when you put together hard work, motivation and humble people and you give them the means to achieve their goals good things will happen!"

– Fabien Cousinié (Team Manager Polygon UR)
After these tests sessions the Polygon UR team made a comment, "Wow its surprisingly good". Most companies would not share this but we are not them.
We know what the RUX can do and it's about to change peoples perception of what SRSUNTOUR is doing.
We would like to thank the Polygon UR team for their support, trust and commitment to us. We welcome you into the family and good things shall come.
"I'm excited to develop a new relationship with SR Suntour! So far the performance has been very impressive! It has a good balance between comfort and support and I love how tunable it is which means we can have a great setup on any course."

– Mick Hannah
"I am so excited to be partnering up with SR Suntour for the upcoming season. The fork is very comfortable, and from the first run I felt at home, I believe the partnership compliments my goals for this season and I can't wait to start racing."

– Tracey Hannah
"This is exactly what happened with SR Suntour the last few years and the podium at world champs of our good friend Florent Payet is an unquestionable proof of performance especially on a track like Val di sole.

"One of the truly different things we are impressed with our SR Suntour forks is their 2 way of rebounds adjustment, having one rebound way set up super fast to go back as fast as possible to sag position and having another rebound way set slower when we need to have stability and traction towards the end of the travel recovery. If you add to that a super reliable manufacturing and a modern compression block, it makes the fork having a lot more control and traction while still being super comfortable while having a lot of support.

"So this is where SR Suntour is at now and haters gonna hate but we believe that adding the suspension experience of the team and with more hard work with an awesome group of people we will have some next level suspensions coming in the near future. And hopefully more podiums but for sure more fun."

– Polygon UR Team
Featured in this Post
Comments