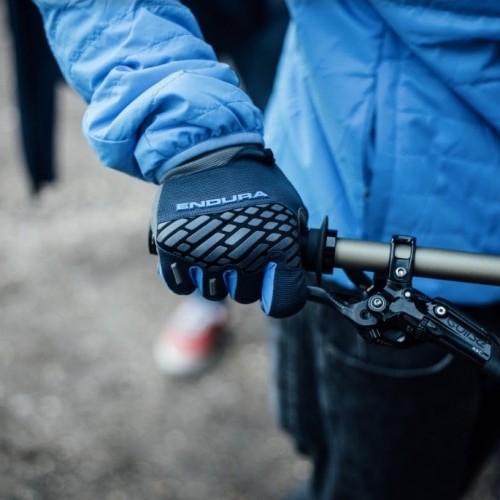 Endura Ground Division
Fri 24th Mar, 2017 @ 12:30 pm
Endura is proud to unveil its first platoon of Ground Division ambassadors.
The 18 riders, handpicked by the brand's Account Managers across Europe, each received a kit bag containing the latest Endura clothing for road or mountain biking, including jackets, jerseys, base layers, gloves, legwear and eyewear, helmets, and off-bike items, such as a Roller Flight Deck Bag and Urban denim.
Rob Webb, a freeride mountain biker, who works as a mechanic at Primera Sports, an Endura dealer in Dorset, United Kingdom, was among the first to receive his clothing from southern area Account Manager David Whild.
"It's like Christmas has come early," Webb joked before putting some of his new kit to the test on a quick blast through a network of trails known locally as 'The Sections.'
"The kit will keep me warm in winter, cool in summer, and dry all year-round, while the pads and helmet will help to keep me safe on the trails. Having this clothing will allow me to ride more often, and I know that I'll become a better rider as a result of being part of the Ground Division programme."
Ground Division is an initiative intended to help support raw riding talent within the wider Endura family, even if ability by itself was not enough to guarantee selection. Those chosen for this first intake were picked as much for their passion, infuencing skills and social media presence as for their riding talents. Sales Director David Pritchard said Ground Division's first cohort are riders who "live and breathe the Endura brand."
"We have picked riders who want to pull on the Endura jersey, so to speak: riders who understand product and who will support the cause with real world feedback from the front line. They might be social media pioneers, influencers within their social group or within a wider family of riders, or connected to our retailers."
Webb's delivery included several items from Endura's flagship MT500 mountain bike collection, including the Pink Bike Award-winning MT500 jacket and the MT500 backpack, as well as merino wool garments from the BaaBaa range, and summer jerseys and high-wicking t-shirts from the SingleTrack Lite collection.
Endura's guiding philosophy is Renegade Progress, a willingness to challenge conventional wisdom to create genuinely innovative products like the Pro SL Bibshort II and the world's fastest skinsuit, with integrated dossard pocket.
Headquartered near Edinburgh, Endura is a market leader in a host of disciplines from trail riding to triathlon. It's sponsored athletes – from the world number one ranked Movistar Team led by double Grand Tour winner Nairo Quintana to YouTube sensation Danny MacAskill – help to shape a market-leading product range.
"The Ground Division ambassadors are a great t for our philosophy of Renegade Progress. By listening to ambassadors who use our products day in, day out, as well as to our world class athletes, we can combine technical insight with the everyday experiences of real world riders.

"Our ultimate aim is to create a movement that fans of the Endura brand aspire to join and to represent. If we discover the next Danny MacAskill or Ashleigh Moolman-Pasio along the way, then so much the better!"

– Endura Sales Director, David Pritchard
Featured in this Post
1,478,016
77,505
Comments