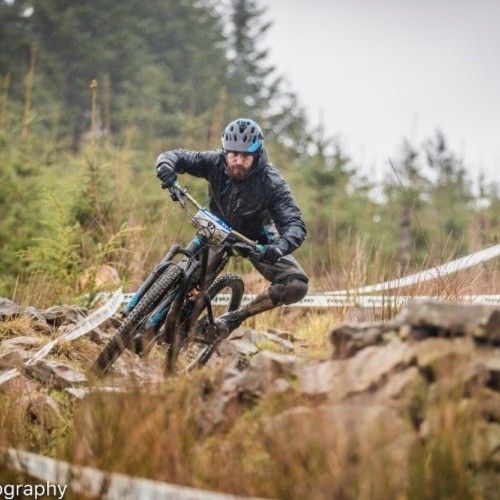 Hope/PMBA Enduro 2017: Round One – Gisburn Forest
Fri 24th Mar, 2017 @ 3:30 am
Win a GO3 Camera by Insta360 this issue in our FREE subscriber prize draw.
The Hope PMBA kicked off it's season, as is tradition, at Gisburn forest. The anticipation for many riders was pretty electric leading up to the race, with winter coming to an end and spring around the corner, people wanted to get back into the saddle and get on with business. However, a wet and wild one greeted them; and showed who had been putting in the winter training; Jerry Tatton reports for us on the event.
Driving to the forest early in the morning, you could tell this was not going to be an ordinary race. With biblical rainfall overnight the approach roads to the forest were flooding, the rivers had started to burst their banks, and the odd car could be seen turning back not willing to brave the deep "puddles".
Arriving at the Gisburn hub it was clear to see spirits were high. The marshals were already gathering, the banter had already started, the café was open and breakfast buns were going down a treat. It's always fascinating listening in to the debates and conversations amongst the organisers pre race, especially if the weather is not playing ball. "do we close down the exposed stage 3?", "should we shorten stage 4?" Rider safety and enjoyment is a huge task the PMBA team take very seriously. After a inspection and some slight regret stage 4 was shortened; there was too much flooding of the valley floor.
Kev, one of the key men behind the PMBA, was determined to run a race at Gisburn with some more natural off piste trails, one off piste stage had been swapped in the run up to the event and then the final part of stage 4 was surrendered . So for the race itself, it was mainly trail centre stages and half the downhill track, but it wasn't an easy course, Stage one was a reverse climb, well three climbs, providing tight corners, narrow trees and rocky sections and then there's stage 4, the DH line, a more demanding trail with drops and tabletop jumps that can send you bucketing over the bars if you loose focus.
Trail centre stages or off piste mud, racing is racing, you all know the phrase "when the gate drops, the bullshit stops" and with some amazing prizes from a huge sponsor list.
This event was a sell out at 350 riders and despite the weather 313 riders turned up, and 296 finished to braving the wind, rain and flooded trails. Stage 3 itself had riders past the knees in water in one deep puddle, it was definitely Mudhugger weather!
There were 4 stages in total with approximately a 14 mile total circuit.
Stage 1 normally a technical ascent provided riders with tight corners, narrow sections with bar banging trees and rocky ditches turned into river torrents.
Stage 2 was a familiar downhill singletrack trail but with some hard on the pedals flat and up hill sections, again technical if you ride hard and fast due to narrow trees, sharp corners and a crafty rocky staircase type drop.
Stage 3 was brutal…From Whelpstone cragg along to the fireroad there were deep puddles and typical trail centre built berms and jumps. Then came a long and muscle burning sprint up the fire road to the second section of the trail, known as Hully Gully.
Even though the weather was brutal all day there were some stunning times recorded and the overall fastest time of the day was James Swinden in a staggering 9:58.979 over the 4 stages racing in the elite category. The overall 2nd place was hotly contested by Ian Austermuhle in 10:04.440 and 3rd overall was Callum Russell in 10:06.460. What an incredible race for the top 3 spots, with only one rider going sub 10 minutes over the 4 timed stages.
In the women's race Polly Henderson had the fastest time in the under 21 category in a superb 12:19.360 closely followed by Lucy Allan in 12:30.480 and Abigale Lawton in 12:30.480. For a full rundown of all the official times by category head over to roots and rain.
"We have assembled a monster selection of prizes along with a huge sponsor line up. Hope again as title sponsor, Datatag, Orange, O'Neal and Sixth Element as our key sponsors and backed up by KS dropper seatposts, Lazer helmets, Mudhugger, Saxx Underwear, Kirkby Lonsdale brewery and Ride Slovenia.

"Over £20,000 of prizes for the series' 5 events. The top prizes of a £3000 Orange Bikes voucher and £1200 Ride Slovenia weeks holiday for 2 aren't for going fast they are just for entering, every entry into every round is a raffle ticket and they can go to anyone. Even though the top prizes aren't for performance 1st places still rewarded very well indeed. Sixth Element and Hope Technology Ltd Wheels, KS USA Dropper seatposts, :Lazer helmets Revolution FF Helmets and O'Neal Knee Pads for the fastest in category on the day. 2nd places consist of many more Hope, Orange and O'Neal goodies.

"There's SAXX Underwear for all male 3rd places as well as a Datatag, and Mudhugger 's for 4th place in all 11 categories and even 5th place gets a prize too.

"Chuck in some beers from Kirkby Lonsdale Brewery into the mix and the podiums are very happy places; 11 5-person podiums sees 55 people – around 1:6 get a well earned prize."

– Kev Duckworth, Series Promoter
Riders always have a chance to style it up now in the form of the #KSdrop, and more spot prizes for the best pic on instagram. Gisburn final stage 4 (Gas to Flat) contained the feature, and while impressive this week we have built the #KSdrop over at Graythwaite for the National Champs – check it out on our social media its a monster!
So that's it, the PMBA season has started with a bang! The next race in the calendar is the Datatag UK National Championships at Graythwaite and Grizedale, covering 55km and 10 stages. For more information head over to their website, there are still a few places but with 460 entered so far not that many left!
Featured in this Post
Comments