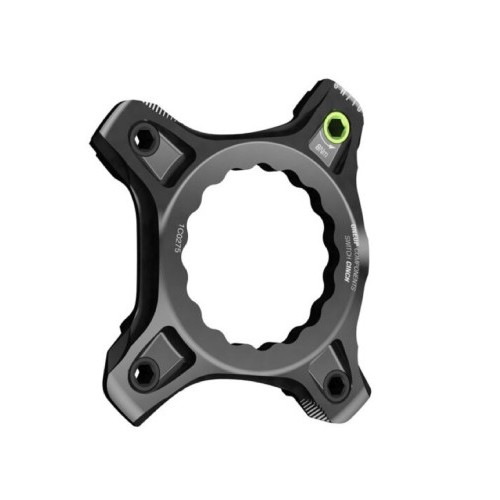 OneUp Components Unveil Switch – The Quick Change Direct Mount Chainring System
Sat 11th Mar, 2017 @ 3:30 pm
Switch was developed to reduce the cost of replacement chainrings, increase compatibility with new offsets and to make the process of changing your chainring much faster and simpler.
Cheaper Replacement Cost
Replacement rings are a fraction of the cost of a complete direct mount chainring
Quick Change
Replace your ring in less than an minute, using only a 4mm hex key. Tailor your gearing to the terrain that you're riding. Enduro World Series Champion Winning Narrow Wide tooth profile keeps your chain in place on the roughest terrain.
– 5 Ring Sizes (28, 30, 32, 34, 36T)
– 2 Profiles – both Round and Oval
– Get ultimate traction with Oval rings by smoothing out the torque you deliver to your rear tire
– 3 Offsets – Regular, Boost and Super Boost
Rings can be replaced in less than a minute with only a 4mm allen key, without removing your crank. Simply loosen the bolts 2 turns, unlock the ring by rotating it by 20 degrees and pull it over and off your crank. Reverse these steps to install your new ring. If you plan to ride a trail that you know is steeper than your local trails, you can switch to a smaller ring in the parking lot, in less time than it takes your friend to put on his riding shoes!
Specs
Material: 7075-T6
Weight: 69g (30T Boost Cinch Oval)
Chainline: Regular (49mm), Boost (52mm), Super Boost (56.5mm)
Compatibilty: Race Face Cinch cranks
Colour: Black
Oval Rings: 12% ovality (32T is equal to a 30T-34T range), 115° clocking from crank arm puts the major axis in your power stroke
Installation: Align the small hole on the inner edge of the carrier with your crank arm. Install ring onto carrier and tighten bolts to 8Nm
Find out more at OneUp Components
Featured in this Post
Comments