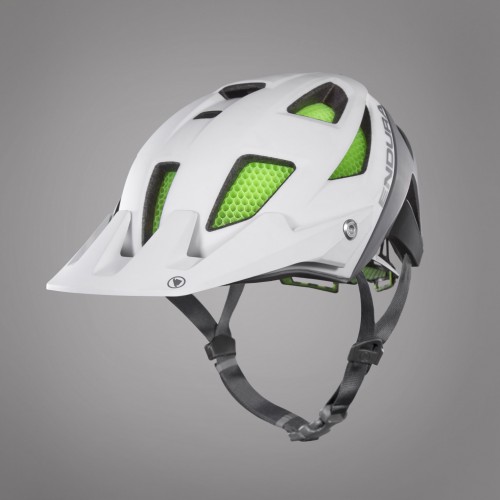 The new Endura MT500 Helmet and MTR knee guard with Koroyd® Technology
Thu 30th Mar, 2017 @ 9:30 am
Endura is proud to unveil two new products that raise the standard for the protection and safety of mountain bikers to unprecedented levels. By placing Koroyd's cutting edge, impact absorption technology at the heart of our radical new MT500 Helmet and MTR Knee Guard, we've propelled MTB rider protection into the 21st century.
Koroyd's co-polymer tube technology combines unparalleled levels of impact absorption and ventilation with incredibly low weight. Our matchless heritage in mountain bike apparel maximises the potential of Koroyd® technology to protect riders on the trail.
Offering striking looks and game-changing performance, the MT500 Helmet and MTR Knee Guard underline Endura's philosophy of Renegade Progress, and provide further evidence of our willingness to look beyond the bicycle industry for solutions to the biggest challenges cyclists face.
Our collaboration with Drag2Zero at the Mercedes-AMG Petronas F1 wind tunnel has yielded the biggest prizes in professional road racing for Movistar Team. Our work with gebioMized® helped us to develop our revolutionary Pro SL Bibshort which is supported by a patent pending pressure mapping t system. Our partnership with Koroyd places our mountain bike protection products in a similar space – at the leading edge.
The MT500 Helmet
Integrated into the core design of the MT500 Helmet, Koroyd's engineered tubes absorb energy in a more linear fashion than traditional foams during an impact and are a key technology enabler that allow the MT500 to reduce maximum g-forces in the event of an impact.
The result? Compared to the 40% chance of skull fracture* whilst wearing a helmet that passes the European Safety Standard at its threshold, Endura's MT500 Helmet achieves a staggeringly low – less than 5%.
Looking at the Head Injury Criterion (HIC) index, an internationally recognised metric developed by the automotive industry, the risk of fatal traumatic brain injury when wearing the MT500 Helmet with Koroyd core is again reduced to less than 5%*, compared to a shockingly high 77%* at the acceptable level for motorcycle helmets meeting European certification.
Such contrasting performance serves to highlight that while helmets with conventional EPS liners comply with deceleration standards set around 20 years ago, they simply cannot compete with the MT500 Helmet's ability to dissipate the forces that result from impact due to its radically advanced design and materials.
The Koroyd technology is not the only aspect of the MT500 Helmet, however. A host of features makes it as versatile as the modern trail rider demands. A goggle-friendly adjustable visor, goggle strap clip, front eyewear dock, and a micro- adjustment t system that can be operated easily with one gloved hand are just some of its advantages.
A GoPro® and Exposure Light compatible clip-on accessory mount, antibacterial padding made from fast wicking "spacer" fabric, and even an air intake – which, allied to broad Koroyd tubes optimised for air ow, o ers incredible ventilation – make the MT500 Helmet arguably the most practical on the trail. At 320g for size S/M, it's among the lightest, too.
Such strong emphasis on safety and function does not come at the expense of style, however. The MT500 Helmet has a strikingly modern aesthetic to complement its game-changing performance. Offering the best of all worlds, it is safe and stylish, and available for SS17 in three colourways: White, Black, and Navy.
Our Pink Bike-award winning MT500 jacket, worn by Danny MacAskill, has rede ned the standard for mountain bike outerwear. With its leading edge Koroyd® technology, stylishly simple silhouette, and packed feature list, we're con dent that the Endura MT500 Helmet will do the same for mountain bike helmets.
Full details on the MT500 Helmet here (and more information on the Koroyd Helmet Safety Initiative here).
The MT500 Helmet is available in three sizes and three colours: white, navy and black. RRP £149.99
MTR Knee Guard
The Endura-Koroyd story continues in our new MTR Knee Guard, which uses exclusive technologies to create a lightweight, highly-breathable structure, perfect for all-day riding without compromising protection. The MTR Knee Guard showcases the separate, but complementary strengths of Endura and Koroyd, with a multi fabric sleeve designed in Scotland housing the Koroyd Flex Plus insert developed through a close partnership between the two companies.
Like the MT500 Helmet, the MTR Knee Guard is a product which exceeds industry norms for safety. This new knee guard boasts the rigorous EN1621/1 certification: an award due in large part to Koroyd's leading edge co-polymer tubes, united in an impact-absorbing, honeycomb structure. Once the reserve of bulky, heavyweight pads with poor ventilation, the MTR Knee Guard raises the bar offering certified protection in a lightweight highly ventilated package.
It's the winning combination of a low density, PU-moulded exoskeleton providing low impact protection, and Koroyd's radical and highly-engineered approach to managing high level impacts and allowing air ow that makes the MTR Knee Guard an all-day defence against knee injury.
*Based on the risks curves developed by biomechanics experts from Ford Motor Company and General Motors
Featured in this Post
Comments