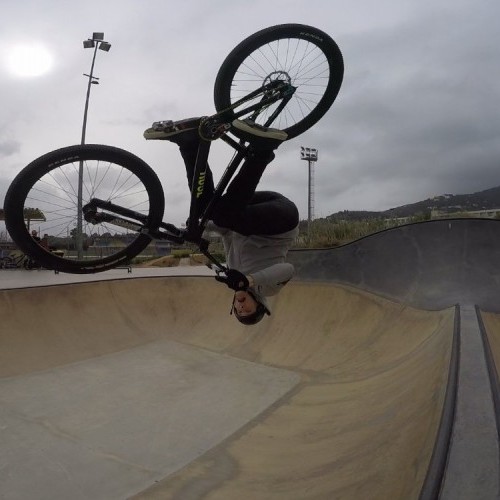 ROSE Bikes announces their 2017 Freeride team with new additions Anthony Messere and Antoine Bizet
Thu 30th Mar, 2017 @ 6:30 pm
ROSE Bikes announces their 2017 Freeride team with new additions Anthony Messere and Antoine Bizet
As Crankworx Rotorua is approaching, ROSE Bikes have announced their new freeride team for the season: ROSE Rad Squad. The team includes top mountain bike riders Anthony Messere, Antoine Bizet, Torquato Testa, Jakub Vencl, Tobias Wrobel and Lukas Knopf.
2017 mountain bike season is about to hit it off with a new strong unified force by ROSE Bikes. Six top riders have teamed up under the German bike brand, to showcase their skillset, push the sport and drop some jaws, while hitting the slopes and sending it at the competitions. We had a chat with all the team riders about their new bikes and their thoughts of being part of the ROSE Rad Squad.
'The ROSE Rad Squad is simply stunning and one of the strongest teams on the tour. With Anthony and Antoine, we have two new entries at ROSE, which are among the best that the mountain bike world has to offer. Torquato has already shown us what level he is able to ride this year, and he is certainly prepared for some big things. Lukas is, in my opinion, the strongest rider in Germany and simply a rad trick machine. Jakub, like no other, embodies the fun and lifestyle, for which the team stands. Tobi is fit again and we will see him more often in 2017, with mouths open for sure. I wish all riders safe flights and good times!' Anatol Sostmann, Marketing & PR Manager ROSE Bikes.
Antoine Bizet (FRA)
1.I am super motivated to ride for ROSE. I like all their bikes from freeride to dirt and enduro, and I'm super excited to finally ride a Slopestyle bike. I will rock The Jester Slopebike a lot in 2017!
2. My Jester will be almost a Normal factory The jester II, I'll just have some fresh Michelin tires on it, a badass Fabric Seat and some sick Fabric grips. I´ll have TRP Cycling brakes and all of this will roll on Spank wheels, while being strongly guided by Spank stem and handlebars! Get ready 2017, we're all set for some big riding sessions!
instagram.com/antoinebizet/
Lukas Knopf (GER)
1.It's awesome to ride for ROSE Bikes. I´ve been riding for them for two seasons already. It's cool to have such a big brand covering your back, especially now having those new additions to the team. ROSE is going to go big this season!
2.My bike of choice is a ROSE The Jester and also The Bruce, which is a Slope and a Dirt jump bike. Both ROSE frames are with KMC Chain, Novatec Wheels and Kenda Tires. The set up is pretty light and stiff for sure! I can't imagine a bike which would suit me better.
instagram.com/lukasknopf/
Tobias Wrobel (GER)
1.Riding for ROSE Bikes feels awesome and I´m stoked to be part of this big family once again. Perfect bikes, great teammates and for sure, great people behind this, makes it feel like a family.
2.For 2017, I switched on to a larger frame size and I tried to build it up as clean as possible.  I ride a Rock Shox Pike Dj in ACROS headset and built up my wheel sets with Maxxis IKON tires to have the perfect grip on every course. As for the brakes, I chose a Shimano XTR with enough power and great handling. Further I got the e*thirteen LG1 cranks on my frame and completed the bike with KORE parts.
instagram.com/tobiwrobel/
Torquato Testa (ITA)
1. I feel pleased and honoured to be on a such professional Team! ROSE Bikes are seriously the best bikes I have ever ridden!
2. Most of the time I´m riding with my "The Bruce" and "The Jester" dirt/slopestyle bikes! Both frames are really perfect for all my tricks, super-fast and light, to let me spin in every direction!  I also used to ride some freeride with my "The Unchained 2.0" and I'm still super stoked on how light my bike is! I can almost do the same tricks with my DH bike, that I usually do with my hardtail.
instagram.com/torquatotesta/
Jakub Vencl (CZE)
1.I´ve been riding for ROSE for 6 years now, and it's always been great. I appreciate all the support through all the years. These bikes feel like home to me.
2.The Bruce is a great small dirt jump beast. It has a few original features, and it's overall really stiff. Exactly what a dirt jumper should be, I would say.
instagram.com/jakubvencl/
Anthony Messere (CAN)
1.I am stoked to be riding for ROSE Bikes. In the past I have heard nothing but good things about their bikes. After taking a look at the geometry of the frames, I knew ROSE would be a good fit. I was itching to get the frames built so I could ride them, and after riding The Bruce (Hardtail) for the past 2 weeks, I couldn't be happier with how it feels. Now I'm excited to spend time on all the other ROSE Bikes as well.
2.As for the build of the new bikes, I have kept the hardtail & slope builds identical, to make the transition from one to another easier. Both bikes are set up with the following parts:
Frames: ROSE The Jester/ The Bruce
RockShox Pike DJ, 100mm 3 tokens, 180psi
RockShox RT3 High tune/ 240psi
Sram XO DH cranks 165mm / Direct mount narrow wide chainring XO
Truvativ stem 30mm
Truvativ descendant colab bars 28.75"
Crankbrothers Stamp Small pedals
Truvativ Noir T-40 Carbon seatpost
Sensus DISISDABOSS grips
Maxxis DTH Rear, IKON front
DT Swiss EX471 Rim, 240S hub
Avid XX Brake, or BB7 mechanical disk with Slopestyle gyro
instagram.com/anthonymessere/
——————————
Featured in this Post
53,359
234,245
Comments