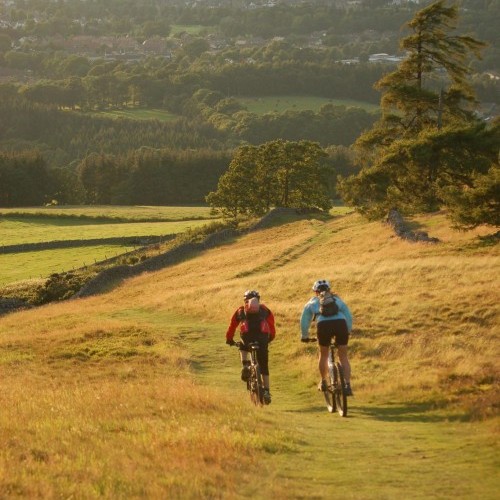 TweedLove Goes Super-Sized With The UK's Biggest Bike Demo
Fri 3rd Mar, 2017 @ 6:30 pm
Shimano TweedLove Bike Festival is getting ready to host the biggest bike demo in the UK this year. Featuring mountain, road, gravel and e-bikes (but with an emphasis on mountain bikes), the three day Demo Weekend is a major new addition to the programme for TweedLove, the annual 'hands-on-bars' celebration of all things bike in the trail-infested Tweed Valley in the Scottish Borders.
TweedLove's big festival weekend is already well established as one of the major cycling events in the UK calendar, and is headlined by the country's only pro-level enduro race, the Shimano TweedLove International. The addition of a big scale bike demo and other elements will cement the transformation of TweedLove into a full-scale and fun-packed bike festival weekend.
Held in Peebles over the weekend of 9-11 June, the list of events now also includes a road bike sportive, urban cyclo-cross racing, closed road family riding, kids events, an expo, an entertainment programme, top quality festival food and craft beer within the town centre-based event village.
The bike demo is a huge step up for TweedLove, and will include hundreds of mountain, road and e-bikes, including an impressive selection of the bike world's hottest new models. The demo sessions run from Friday through to Sunday, with some demo slots available for advance booking online, and the remainder available on the usual 'first come-first served' basis on the day. A dedicated MTB demo loop will take in some great trails in Glentress forest, while the road demo loop will access the quiet and scenic tarmac surrounding Peebles.
"We know there's going to be high demand for some bikes in particular," says festival director Neil Dalgleish, "so people have the chance to pre-book if they're quick." Bike brands confirmed so far include Cannondale, Cotic, Cube, Evil, Genesis, Ghost, Ibis, Intense, Marin, Mojo/GeoMetron, Mondraker, NS Bikes, Nukeproof, Orange, Saracen, Scott, Shimano Steps, Vitus, Whyte and Yeti, with more being added over the coming weeks. Taking part in the demo costs £10 per day for registration but no additional charges and very generous demo sessions.
"We've kept the cost to an absolute minimum," says Neil. "But if riders plan their day well they could easily spend it trying bikes that add up to over £35k!"

– Festival director, Neil Dalgleish
It's undoubtedly a major step for the award-winning Scottish Borders festival, which started in 2010 as a collection of mates' rides and races. "The UK doesn't currently have an event like this but it's time it did," says Neil. "For me, this is the year that TweedLove Bike Festival has really arrived. It's what I'd always hoped we could do here, with some of the world's best enduro riders lining up side-by-side with weekend racers, roadies alongside mountain bikers, kids and family riders sharing the vibes with serious pro athletes. And so many beautiful bikes to admire. We all love the good times we have because of our bikes – that's what TweedLove's always been about."
Other brands will also be there to show and tell about their latest ranges in the expo, including Shimano, Bliss Protection, Burgtec, DT Swiss, Five Ten, Flare Clothing, G-Form, Gamut, High Five, Hope Tech, Lazer, Madison, Odlo, Pro, Sixth Element and many more.
Pre-booking for bike demo sessions opens at 7pm on Thursday 9 March, from tweedlove.com.
Featured in this Post
Comments