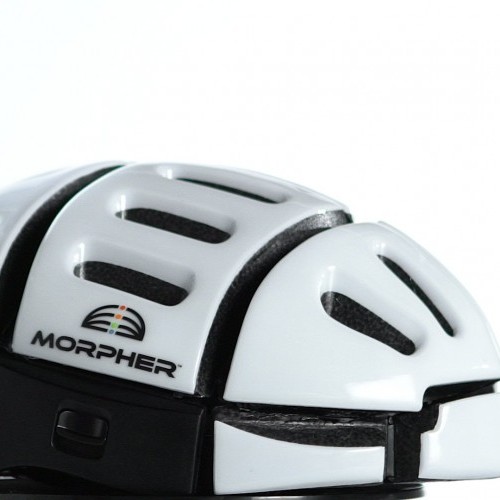 Morpher – The Folding Helmet
Fri 28th Apr, 2017 @ 3:30 am
Win a Full Tire Insert Kit from Rimpact! this issue in our FREE subscriber prize draw.
We've heard of folding bikes, heck, we even fold our clothes on the odd occasion but what's this folding helmet coming out of left field? Whether you're a space savvy commuter or just fully into new tech and design, this could be a lifesaver for you (see what we did there?). Folding full face helmets next, anyone?
The life-saving, multi-award winning, Morpher Helmet, launched a crowdfunding campaign with investment platform Seedrs last week and has already exceeded £430,000, which is more than 70% of its £600,000 target.
Anyone, cyclist or not, can buy shares in Morpher via Seedrs, in return for equity in this exciting new company, who's product is set to make cycling safety easier for everyone. The beauty of Morpher is that it folds flat and fits into a small bag or case, overcoming the major reason why cyclists won't wear a helmet.
Morpher was invented by two times British Inventor of the Year, Jeff Woolf, for the 83% of cyclists who don't wear a helmet because they are too cumbersome to carry. With more bikes than cars sold today in the US and Europe this presents a major solution to a growing road safety problem. RoSPA reports that in the UK 75% of cyclist fatalities were from serious head injuries.
There are at least 200 million people worldwide who use bike schemes and 90% of them don't wear a helmet even though they know it's potentially extremely dangerous.
Jeff, who was awarded an OBE for innovation, set about solving this problem by inventing a helmet that could fold flat so people could pop it into a bag as small as a laptop case when not in use.
"The goal is to get people to carry a Morpher in their bags, it will become a habit: habit that will save lives"

– Jeff Woolf, Morph helmet inventor
A successful reward based crowdfunding campaign on Indiegogo has raised nearly $400,000 from 3,000 backers and over 4,000 helmets have now been sold. The company has built up a strong community of cyclists and supporters worldwide. Funds raised will be used to meet the overwhelming demand from distributors, agents, retailers and cyclists.
Morpher has patents granted in many countries, pending in several others, has CE1078 and CPSC safety certification and is manufactured by one of the world's leading helmet manufacturers who also produce for big name brand cycle helmets such as Bell, Giro, Scott, Lazer, Specialized, Bolle, Kali, POC, Trek and Limar.
Plans for Morpher include worldwide distribution and development of a range of exciting new products for the snow sports, motor sports and security markets.
"The launch of the Seedrs campaign and the incredible response to Morpher so far means that I am now close to fulfilling my dream of getting as many people as possible to find it easy to carry a bike helmet. If we save even one life because someone is wearing a Morpher Helmet then it will all have been worth it.", says Jeff.
Through the Seedrs campaign, the company is seeking to raise £600,000 against a pre-money valuation of £4,500,000.
Featured in this Post
Comments