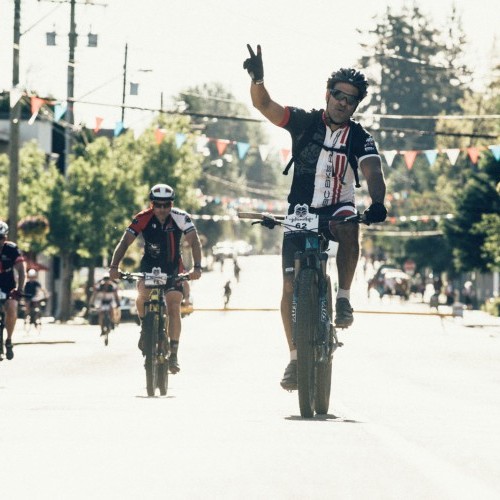 The BC Bike Race Experience: Part 1
Thu 15th Jun, 2017 @ 9:30 pm
Win a GO3 Camera by Insta360 this issue in our FREE subscriber prize draw.
Welcome to the ultimate bike race in the incredible surroundings of British Columbia. The BCBR is a seven day singletrack session designed to pull the legs off contenders and connect them to the history and culture of BC. Follow all seven parts of the race, starting with Part 1, right here.
Day 1 – Cumberland
With the countdown to the BC Bike Race on, it's time for us to release the first of our seven-part video series showcasing the communities we visit. Through these edits we will share the unique culture and history of each, as well as, the 2017 course maps for our daily stages! These short stories will touch on the evolution of mountain biking here in BC and what has catapulted our province to a top destination for mountain biking globally.
This project was made possible with a grant through British Columbia's new Marketing Co-Op program. With the province's support, we are thrilled to have the platform with which to share these communities, which have been such a big part of our success as an event, with the world.
In each segment, we will talk to some of the colourful characters who have had a role in the continuing development of mountain biking in their towns. From our Cumberland course designer and owner of the Riding Fool Hostel, Jeremy Grasby, to Dream Wizards and legendary trail builder, Ted Tempany, and even the Godfather of Freeride himself, Wade Simmons, we have a wide array of stories to share about what makes mountain biking happen in our backyard.
BC Bike Race is Ready to Roll
In just 22 days, racers from 33 countries will arrive in North Vancouver for the BC Bike Race! The action will kick off on July 7 with the first stage in Cumberland before continuing to Powell River, Sechelt, North Vancouver, Squamish, and Whistler!
Last year's winner and the new 24-hour World Champion, Cory Wallace, is back to defend his title! After going home with third last year, Stephen Ettinger is also returning with his sights set on the top step. The field gets even stronger with competition and includes; Olympian and Canadian legend, Geoff Kabush; mountain bike and cyclocross racer Troy Wells; cyclocross racer, Tim Johnson; American Olympian, Sam Shultz; and returning 2016 French Marathon Champion Frederic Gombert. Also, throwing their hats in the ring are enduro racers, Jesse Melamed and Chris Johnson. Will Jesse's cross-country background and home field advantage in Whistler give him an edge?
We also have Olympian and past BC Bike Race winner, Katerina Nash, back! And while we would have loved to see her and our 2016 winner, Kelli Emmet, battle it out, we will instead have to keep an eye on the local talent, Cary Mark, and new school racers like Olympian Kristen Sweetland and Dutch Marathon Champion Hielke Elferinke.
This year we are also thrilled to be hosting local trail builders Rob Pheonix, Penny Deck, and Martin Newman for the race—for all that you do, we salute you!
So follow along for the next few weeks as we share our communities and course with you. And then stay tuned to watch the story unfold and virtually cheer on our racers as we share live updates, daily photos, and race reports throughout our seven days on the road!
Featured in this Post
Comments