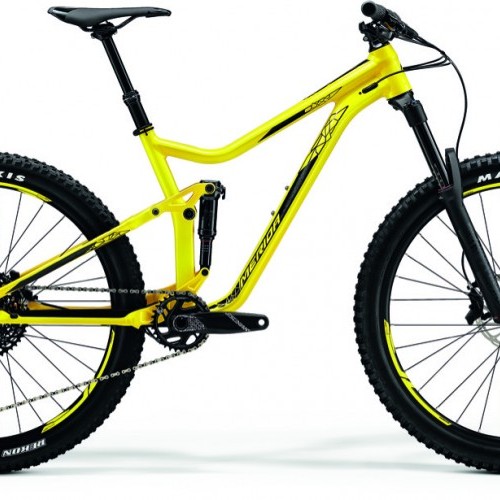 2018 Merida Bikes
Wed 16th Aug, 2017 @ 9:30 am
After the introduction of key models like the multiple award winning eONE-SIXTY, the lightning fast SCULTURA DISC, the test winning ONE-SIXTY and the super light weight BIG.NINE in 2017, our line-up of exciting innovations in 2018 is equally if not more breath-taking. For the upcoming 2018 season we are adding a large array of MTB, road and e-bike models to our international range.
MTB
ONE-FORTY
New Trail Bike Concept
Today's trail bikes become more and more versatile, capable and fun to ride. What used to be the perfect bike for a 'long day in the saddle' is able to perform at the highest level on the most demand trails today. The ONE-TWENTY is one of the most capable mid travel bike the MERIDA full suspension range has ever seen, and the ONE-SIXTY enduro machine which was only introduced in 2017 not only won various tests and press accolades but also changed the perception of the MERIDA brand amongst trail and enduro riders.
After the successful introduction of the ONE-TWENTY (introducing 'Float Link' rear suspension) to the MERIDA line-up which was closely followed by the test winning ONE-SIXTY enduro machine, it was just a question of time to close the gap between these two top performing bikes – welcome to the new ONE-FORTY.
ONE-FORTY – the latest addition to our float link equipped full suspension trail bike line-up and the perfect all day bike if you like your trails to be challenging. A brand new lightweight aluminium bike combining all the latest design thinking and can deal with far more than the 140 mm travel label suggests. Our super price aggressive trail weapon is more capable than a ONE-TWENTY but more agile than a ONE-SIXTY.
ONE-SIXTY
Now Also Available in an All Aluminium Option
Following in the footsteps of the test winning carbon/aluminium version of the ONE-SIXTY which was introduced to the MERIDA line-up in 2017, the new for 2018 all aluminium version offers the same outstanding geometry and handling but at a more affordable price point.
Similarly to its carbon/aluminium brother, our all aluminium ONE-SIXTY combines super short 430 mm chainstays for increased agility and playfulness, with a long reach, slack head angles and a low centre of gravity, delivering an aggressive enduro geometry.
Further features of our entry level enduro bike are boost technology, trunnion mounted metric shocks, 'Smart Entry' internal cable routing and our proven 'Float Link' suspension system.
BIG.NINE/SEVEN TFS
A New and Exciting Frame Concept
Within one of the biggest segments of the MERIDA range the entry level of our BIG.NINE/SEVEN hard tail range – the TFS frame – gets a complete makeover.
The introduction of slim tube shapes creates a new look. A more relaxed geometry, achieved through a longer top tube and a higher head tube, offers a more upright riding position and enhanced trail visibility. The new frame also comes equipped with kickstand and fender mounts.
In comparison to the previews model, the new TFS frame has a lower stand-over-height and a long head tube. It also features a slack head angle and steeper seat angle for more control as well as a more 'sitting within the bike' seating position. The updated geometry also features longer reach for the perfect combination with short modern stems.
The new TFS frame is aimed at the beginner to advanced rider who prefers less demanding trails and forest roads. The bike invites the rider to also use it on the daily commute which will make the fixing points for a rear rack, mudguards and a kickstand a real plus.
eBIKE:
Our hugely successful and award winning PERFORMANCE e-bike range will only see minor changes and improvements along the lines of the e-bike specific DT Hybrid wheelset, an additional XL size for our award winning eONE-SIXTY 900-E and further colour options in our eONE-TWENTY range.
eBIG.TOUR
Shimano E8000 Battery and a More Fluid Battery Integration for our 'Active' e-MTB with E6000 Power Unit
Our eBIG.TOUR is our 'active' e-MTB. Depending on the chosen frame size the bike comes equipped with either 27.5" or 29er wheels. It is powered by the proven E6000 STePS motor from Shimano and comes equipped with a 100 mm suspension fork. The short seat tube offers a low step over height while the longer head tube paired with a short top tube create a more upright and with that very comfortable riding position. Full equipped versions with rear rack and fenders are also available.
Up to now our eBIG.TOUR was powered by the E6000 battery, but for 2018 we have specced our e-MTB with the 'range extending' E8000 unit which offers 500 Wh. Besides that, we have also given the eBIG.TOUR a new down tube which allows a far neater and cleaner battery integration and thanks to our 'Smart Entry' system has all cables run internally.
eBIG.NINE and eBIG.SEVEN
New Battery Integration and E8000 Motor
With regards to the riding characteristics and its geometry our eBIG.NINE (29er wheels) and eBIG.SEVEN (27.5" wheels) fit right between the more relaxed eBIG.TOUR and the more trail focused and playful eBIG.TRAIL. That makes it the perfect bike for everyone who is looking for the perfect balance between riding a sportier e-bike companion which offers fantastic day-to-day usability. Our eBIG.NINE and eBIG.SEVEN can be equipped with mud guards and even kick stand, giving the bike huge versatility for the daily commute or trip to the shops. If you are looking for a reliable and fast commuter who also likes a more off-road bias route on the way back home, than the eBIG.NINE and eBIG.SEVEN are the ideal choice.
Up to now our eBIG.NINE and eBIG.SEVEN were only available in the Shimano E6000 motor and battery equipped version, but for 2018 we also offer the more powerful E8000 motor and battery (500 Wh) combination. The more entry level orientated version of the eBIG.NINE and eBIG.SEVEN range will carry on with the E6000 motor but will be specced with the range extending E8000 battery.
Featured in this Post
Comments