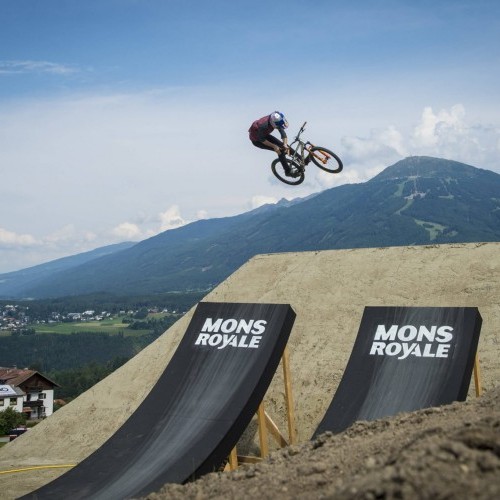 5 Things We Have Learned at Red Bull Joyride at Crankworx Whistler
Sat 26th Aug, 2017 @ 3:30 am
For the 14th time the biggest stars in slopestyle mountain biking returned to where it all began: Red Bull Joyride at Crankworx Whistler. Thousands of fans lined the course with its massive jumps and features and cheered on the riders. With the American Nicholi Rogatkin aiming at the never before achieved Triple Crown of Slopestyle title and Canadian Brett Rheeder hell-bent on beating him after a narrow defeat defeat at Crankworx Innsbruck, the story line was set. In the end it all played out different and the victory was taken by a familiar face that we have only seen in competition once this year. These are the 5 things we have learned at Red Bull Joyride at Crankworx Whistler:
1. Crazy Canadian Crowds and a Next Dimension Course
For the 14th summer, crazy Canadian bike fans made the pilgrimage to the mecca of mountain biking to watch the world's best compete at Red Bull Joyride at Crankworx Whistler. The top slopestyle riders put it all on the line in a crash-marred competition on a course lined with enthusiastic fans who came to watch a battle between Brett Rheeder (CAN) and Nicholi Rogatkin (USA) and saw Brandon Semenuk (CAN) spoil their party.
2. Brandon Semenuk 5-Peats
Hometown hero Brandon Semenuk continues to write history at Red Bull Joyride and delivers an unprecedented 5th victory. After not having competed since Crankworx Rotorua, he came in as a wildcard and was the first athlete on course. Not fazed by the pressure of expectations, he delivered an incredibly strong first run that included a never-before-seen Backflip-Candybar and withstood all challengers throughout the day.
Missed Red Bull Joyride at Crankworx Whistler? Fear not! You can re-watch the entire live-broadcast and all the highlights on-demand and anytime on Red Bull TV!
3. Curse of the Triple Crown
Nicholi Rogatkin (USA) went for it, but came up short. Known for his cash or crash style, the American entered Red Bull Joyride as the only athlete with the opportunity to win the coveted and never before achieved Triple Crown tile. Rogatkin went huge on both runs but was unable conquer the course, crashing in his first run and blowing a tire after an over-rotation on his second.
4. Age Does Not Matter
20 years separate the youngest and the oldest rider in the field at Red Bull Joyride. Demonstrating that age does not matter, both 18-year-old Emil Johansson (SWE) and 38-year-old Ryan Nyquist (USA) stomped incredibly strong runs and podiumed in 2nd and 3rd respectively.
5. Emil Johansson wins Crankworx Slopestyle Tour
Last year the Swedish young-gun Emi Johansson entered Red Bull Joyride as a relatively unknown wildcard-winner and shocked the mountain biking world with a fourth-place finish. Fast-forward a year and the youngest rider in the field, entered Red Bull Joyride as the leader of the Crankworx Slopestyle Tour and FMB Diamond Series. Not showing any signs of the pressure getting to him, Johansson put down two incredibly strong runs, took second place and won the Crankworx Slopestyle Tour with authority in what is only his second year of competing internationally.
###
Red Bull TV is available on connected TVs, gaming consoles, mobile devices and more. For a full list of supported devices, visit this page. Stay up-to-date with the latest on everything bike related on the Red Bull Bike Channel at redbull.tv/bike.
Watch the Crankworx Slopestyle World Tour – LIVE on Red Bull TV
Crankworx Rotorua:    Replay of live broadcast available on demand, anytime
Crankworx Les Gets:   Replay of live broadcast available on demand, anytime
Crankworx Innsbruck: Replay of live broadcast available on demand, anytime
Crankworx Whistler:    Replay of live broadcast available on demand, anytime
Featured in this Post
373,568
Austria
47,790,335
Comments