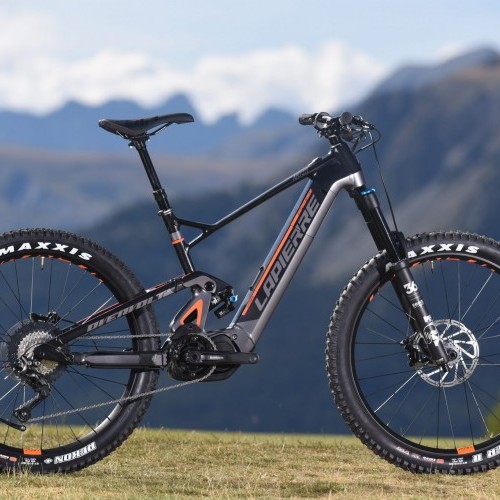 New Lapierre Overvolt Integrated Models
Sun 13th Aug, 2017 @ 9:30 pm
Ready to conquer new frontiers and new terrain. The Overvolt spirit is a mix of genres, a bike that's as unique as the people who ride it.
One of the leaders of the ebike segment, Lapierre have rethought the Overvolt range for 2018.
The Overvolt Carbon has recently won the Eurobike design award, Taipei Cycles D&I award and eBike of the year in France; but Lapierre is not resting on its laurels but is pushing ahead to develop two new models, the Overvolt integrated Bosch and the Overvolt integrated Shimano.
"The brief was clear. We wanted to offer our clients integrated ebikes that look great and keep the Overvolt DNA, staying loyal to our MTB roots. We took inspiration from the technologies and geometries of our flagship non electric bikes, the Zesty and Spicy, and the Overvolt carbon ebike to ensure we achieved the same great ride feel."
Two new bikes, and two different characters to complement the Overvolt MTB range. With the new range we can see the expert eye of Nicolas Vouilloz has come into play. Now R&D Project Leader at Lapierre, he collaborated in the development of these two new models:
Overvolt iBosch
New for MY18
500 wh integrated battery
New E-MTB mode
Possibility to add bottle cage
The PowerTube 500 combines practicality and style: The new Bosch battery provides sophisticated lithium-ion technology in a simplified, elegant aluminium design and can be integrated into the eBike frame. Invisible and well protected inside the frame, the PowerTube 500 proves to be especially comfortable.
LAPIERRE SAVOIR FAIRE: Easy and fast access to the battery. Can be charged on or off the bike. Bottle cage compatible.
This new mode replaces the old sport mode on Bosch motors. The motor automatically exerts the ideal power level to match the pressure put on the pedals. It adapts the intensity of the assistance to the riding style. Improved efficiency, a more fluid pedaling style, better control in difficult passages, an improved experience for everyone.
Models
Bosch models will be available from the end of October and pricing is as follows:
Overvolt AM 900 iBosch
Price: 5999€
– New Overvolt Bosch Supreme 5 alloy boost
– Bosch performance CX Intuvia new powertube 500wh
– New Pike RC 150mm travel super deluxe rc3
– Sram x01 carbon + new trigger gx-e 11v 14t – 11/46 sram guide re 200mm
– New Lapierre eam+ 35c wheels / Maxxis 27.5×2.8 high roller ii 3c (f)/ rekon+ (r) foldable 60tpi exo protection tubeless ready
– Fizik Gobi Kium + new lp dropper post w/1x remote
Overvolt AM 700 iBosch
Price: 5499€
– New Overvolt Bosch Supreme 5 alloy boost
– Bosch performance cx intuvia new powertube 500wh
– New Pike RC 150mm travel deluxe RT
– Sram GX
– New trigger gx-e 11v 14t – 11/46
– Sram Guide re 200mm
– New Lapierre eam+ 35c wheels / Maxxis 27.5×2.8 high roller ii 3c (f)/ rekon+ (r) foldable 60tpi exo protection tubeless ready
– Lp by velo + new lp dropper post w/1x remote
Overvolt AM 600 iBosch
Price: 4999€
– New Overvolt Bosch Supreme 5 alloy boost
– Bosch performance CX intuvia new powertube 500wh
– New Revelation RC 150mm travel deluxe RT
– Sram NX+ 11v 14t – 11/46
– Sram Guide re 200mm
– New Lapierre eam+ 35c rims / Formula hubs / Maxxis 27.5×2.8 high roller ii (f)/ rekon+ (r) foldable 60tpi exo protection tubeless ready
– Lp by velo
– New JD dropper post w/1x remote
Overvolt AM500 iBosch
Price: 4399€
– New Overvolt Bosch Supreme 5 alloy boost
– Bosch Performance CX purion
– New powertube 500wh
– Suntour Aion Lor 150mm travel deluxe R Shimano Deore 10v 14t – 11/42
– Sram Guide RE 200mm
– New Lapierre eam+ 35c wheels / Maxxis 27.5×2.8 high roller ii 3c (f)/ rekon+ (r) foldable 60tpi exo protection tubeless ready
– Lp by velo + new JD dropper post w/1x remote
Featured in this Post
Comments