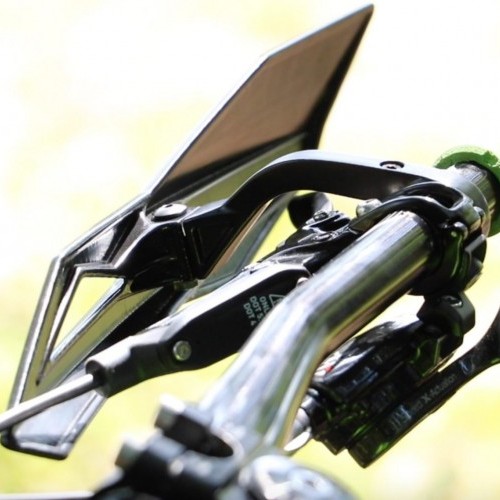 'Recchie Handguards and Handlebar Protection
Wed 30th Aug, 2017 @ 3:30 am
And now for something completely different: if you've ever had an issue with your hands being clattered by branches (or ninjas with sticks) then maybe you're screaming out for a set of these snazzy new handguards from Italian designer, Mr Wolf. You can even get them colour matched to make sure your ride is looking as fly as possible. What do you think?
'Recchie is a product designed for rider safety to protect the most exposed parts on your bike: hands and brakes.
'Recchie design provides high protection, smoothly integrated into bike balance and geometry. Its ribs and tapers, studied in detail, make 'Recchie durable and lightweight.
'Recchie completely protects the rider's hands and continues to develop horizontally until it covers the brake pumps and cables.
'Recchie, thanks to its aggressive yet lightweight design (74 grams for each handguard), revolutionizes the look of the front of all mountain bikes from CrossCountry to Downhill, from Enduro to eBike.
'Recchie is producted trought injection moulding with the highest quality materials to ensure lightness, flexibility, durability and resistance.
Handguards and handlebar supports, both made in polypropylene, gives 'Recchie perfect rigidity.
Check it out on Kickstarter.
Comments