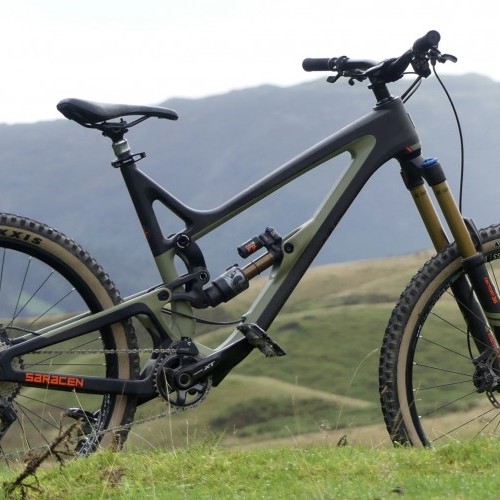 First Ride – Saracen Ariel LT 2018
Mon 11th Sep, 2017 @ 2:50 pm
Revolution bike park in Wales has a reputation. If you choose to launch a bike there then it has to be up to the job. A bold statement if ever there was one. To invite us down to come and try the new Ariel at such a character building venue, you need a confident bike. We know, however, that great things come from the valleys of Wales, forged on the harsh, steep and challenging terrain, frequently battered by the famous weather.
The Ariel Evolution
The new Ariel sees a step change in potential capabilities, with increased travel and far more in common with the Myst downhill bike than the previous version. Coming in two models, the LT and the Elite, the former gets a full carbon frame and the latter is made of trusty aluminium. Angles remain consistent between them, apart from a reach adjust headset on the carbon LT allowing for 5mm adjustment forwards and back.
The LT is the top model, and the spec stands up to a lot of scrutiny, as it should for a shade under £5,000. Fox is keeping things smooth front and rear and controlling the depth of travel on tap, which is a not insignificant 170mm up front and 165mm out back. The frame is modern and boosted of course, and many will cheer to see a threaded bottom bracket incorporated into the big carbon frame. Shimano deal with braking and propulsion, with a mostly XT spec, plus an SLX shifter. Dropper post is the now common 'own' brand, we have seen on many bikes this year.
My extra large numbers stack up nicely, with a 490mm reach and a 65-degree head angle, plus the ability to add on or take off 5mm of reach for fine tuning. As is common for bikes of this style, it's long, low and slack, but still with an eye on getting riders back up the hills on the pedals, rather than being purely an uplift machine.
The paint job is slick and strong, with a good choice of colours to match the tan-wall tyres. It's a bold move those tyres, but I think it works. What is noticeable, however, is the 2.3 tyres, which look a bit narrow compared to the 2.5/2.6 trend, but they are attached to DT Swiss spline 1900 wheels, which is always a pleasure, especially when setting up tubeless.
The Ride
Revolution, as mentioned, is a harsh environment. I don't ride downhill bikes much, so the Ariel is the perfect type of bike for me, feeling familiar to trail bikes, but with more margin for error. It took a couple of runs to dial in the suspension and use all that it has to offer, but it definitely felt like a mini downhill rig rather than a beefed up trail bike.
Ploughing straight into steep rooty trails the Ariel responds in a calm and considered way, despite the wild terrain. The long travel is delivered in a plush and predictable way, allowing for a hold-on-and-hope approach which worked surprisingly well on trails I didn't know well! With more time together the more playful side of the bike came through, but things were only going to get really lively at higher speeds, and hitting trail features or lips too slow resulted in them being steam rolled. Hit the bigger features faster and things suddenly make a bit more sense, but fear obviously increases in line with the height of the drops. The question 'do I need a downhill bike?' was replaced with 'should I really be allowed a downhill bike?'. With so much travel and a very capable bike, I was going fast enough thanks.
I needed to see if it would pedal, as it's all well and good going on about a mini downhill bike, but if you can't pedal it up, then you might as well have a full downhill bike and be done with it. As mentioned it shares more genetics with downhill than trail riding, so the compromise was always going to be in the climbing. Recently I was reunited with the Ariel for some proper mountain-time and took it out for some more testing on some big rocky and technical trails, but also some climbs to see if it could get itself back up the hill.
Let's deal with climbing first, and it's fair to say it's far more capable than I gave it credit for. It's a real trooper and tries very hard to please on the ups, the supple rear end giving endless comfort and finding traction on all but the slippiest surfaces. In the battle against gravity, it's no speed machine, but the stiff rear end keeps energy loss to a minimum and doesn't feel like a chore. Locking out the shock is an option for less technical climbs but puts the bike a bit higher and a little less stable. Further shock tuning and testing should give a more clear idea of the climbing capabilities of the Ariel.
Descending on some of the roughest and rockiest terrain I could find didn't seem to faze the Ariel one bit. Once again a sense of calm came from the bike, if not the rider, as it ploughed into every rock garden I could find. What was surprising was that on more mellow terrain it still gave an engaging and exciting ride, the relatively light weight of the bike makes for a pretty maneuverable feel and impressed yet again.
Overall
There is plenty more to learn about the Ariel, and I am keen to experiment with the headset and suspension to dial in the ride to perfection. I would also be keen to try some higher volume tyres to see if this further opens up its scope and abilities. Overall, my feeling is that this is definitely one of the best of the new long travel enduro/trail bikes I've ridden, managing to combine both exceptional downhill competence without a huge compromise in pedalling efficiency. I am truly looking forward to putting some more miles into the Ariel.
More details here- http://www.saracen.co.uk/bikes/mountain/all-mountain/ariel
Full review to follow in Issue 50
Featured in this Post
Comments