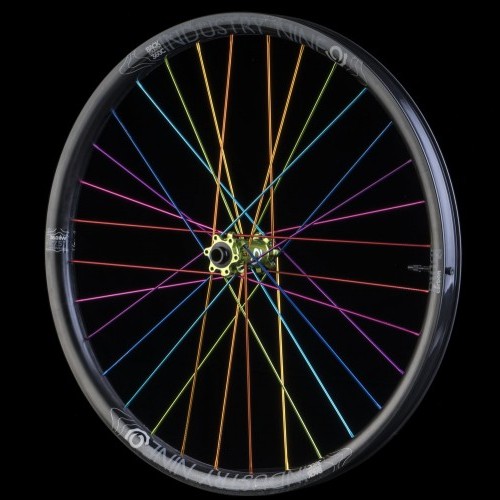 Industry Nine Introduces PillarCarbon BC360 Wheelset & New Hubs
Thu 21st Sep, 2017 @ 3:30 am
Get the tissues ready because things are about to get dribbly. Industry Nine have just released this absolute monster of a carbon wheelset with a combined weight of just 1,825g – and just look at how beautiful it is! Dive in and take a look at the specs, along with a couple of new hubs dropping right now at Interbike.
PillarCarbon BackCountry 360
PillarCarbon BackCountry 360 is our premier wheelset for modern, wide-cased mountain bike tires. Built on our Torch 32 hole chassis, PillarCarbon BC360's 36mm internal width provides optimal sidewall support for the newest breed of performance rubber. PillarCarbon BC360 raises the performance bar, highlighting the advantages of added traction while shaving weight with carbon execution.
– Weight: Set 1,825g, Front 855g, Rear 970g
– Front Axle: QR 100mm, 9x100mm, 15x100mm, Boost 15×110*
– FatBike Front Axles: 9x135mm QR, 10x135mm QR (Rear offset disc spacing), 15x135mm, 15x142mm, and 15x150mm*
– Driver: Shimano HG mtn 9-11spd or SRAM XD
– 3 degree engagement, 6 pawl freehub, 120 point drivering
– Recommended Tire Width: 2.4-3.0″
– Rim: 36mm inner width // 42mm outer width
– Tubeless Ready
– Rear Axle: QR 135mm, 10x135mm, 12x135mm, 12x142mm and Boost 12x148mm*
– FatBike Rear Axles: QR 170mm, 12x177mm, 12x190mm and 12x197mm*
– Recommended Rider Weight: 270lbs/122kg max
*Please note several different Torch Chassis builds are available, and are not all compatible via endcap swaps.
Classic Boost Singlespeed!
Why? Because we can! We had enough requests from our customers that we decided to march down to the machine shop and make some. All the same features of a regular Boost Torch hub, but with a smaller freehub body for the singlespeed minimalist. Avaialble in 32H or 28H drilling and in all 11 colors we currently offer. MSRP $385.
Lefty 2.0
Lefty SuperMax users rejoice! We now have you covered!
– Weight 136 grams*  *Includes endcap, bolt, and snap ring.
– The Lefty 2.0 features 10mm wider flange spacing which yields a laterally stiffer and stronger wheel.
– Available in both Classic J-bend flange or our System hub to use our Aluminium spokes .
– The Classic is either 28H or 32H drilling. And of course, available in all 11 colors we currently offer.
– MSRP $190.
Featured in this Post
Comments