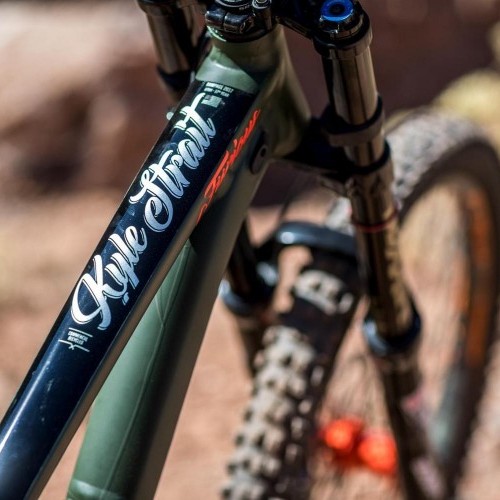 Crissy's Rampage Diary – Day 2
Thu 26th Oct, 2017 @ 9:30 pm
Team Commencal give us their low down on day two of Rampage digging and practice:
Today was way less intense than day one, maybe I just accepted that all these dudes are crazy and they're going do what they are going do regardless. Almost everyone is done digging and starting to get down to business.
We started to see some tricks today.
Semenuk starts off the big tricks, a flat spin 360 one foot off the pedals, there was a biiiiiiiig superman backflip by Andreu, Boggs had a huge canyon gap that he OVER shot by 15 feet and 3 feet to the right completely missing his landing. He wins the huck to flat of the year and the crowd went crazy. I think he was just pumped not to die because this canyon gap is massive!
Andreu, Bass Van-Steenbergen, Vinny T (backflip no hander) are all using Aggy's line from last year from the top now. We watched Kyle, PEF and Zink go up do their line but they were climbing up like sketchy mountain goats get to a good starting spot. The other three dropped in on Agassiz's line from last year which is super sick but no where near as steep or tech, but it does cross over into it and use the same hard work and man hours that all of our boys' diggers did slave labour to make smoother, safer and more awesome. None of our guys are excited about it but there's nothing they can do.
Also a gnarly drop is being built by Bizet… it's big and the lander is skinny but if it doesn't get destroyed it's going to be worth some points…
Cons:
– The meat-head American body builder who guards the tent with all of the food and shade for the athletes would not let us in to steal dank food and BBQ today =(
– Kyle had a pretty scary crash, the turn of his canyon gap was really really dry and loose and took all of his speed. He wasn't going to have enough speed to make it and he had to crash on purpose, so close to the edge. It was NOT cool and Rachel took off running…
– None of the boys hit the "steepest line in Red Bull history" from the top today. It's going to be very very hard to control speed and scary to watch them do it for the first time
– They are calling for wind tomorrow…
– Andreu and Antoine Bizet stepped into podium 1 2 3 territory today with the tricks they are capable of and using Agassiz's line from the top.
We still think that Kyle or Zink (Go Lyle!!) have a real chance at winning this thing. But they have to bring their A-game. They have the gnarliest, craziest line on the mountain hands down but if they don't bring a suicide no hander, 360 or backflip and land it clean, they will not take the W.
We think PEF has a crazy good line this year. It's got a mix of everything, he's the one trying everything first and should win the title for 'The dude who is having the most fun at Rampage' award he's so stoked! Although he did almost plow into a baby… No joke!
Kyle's army green frame and camouflage wheels and kit and came in today. It is soooo sick! For Rampage this horse is much more him. Check it out!
Featured in this Post
Comments