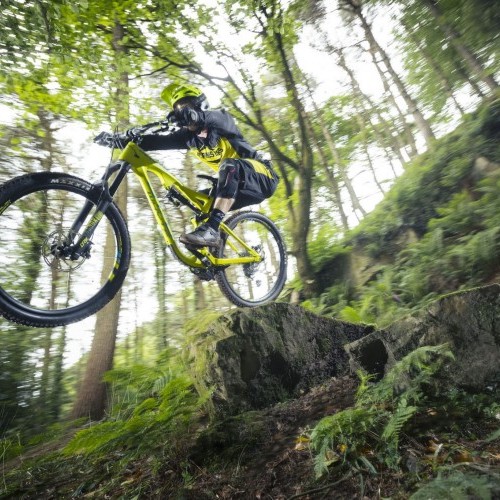 Whyte Bikes British Enduro Championships 2018 To Be Held in Scotland's Tweed Valley
Thu 26th Oct, 2017 @ 12:30 pm
Whyte Bikes British Enduro Championships 2018 To Be Held in Scotland's Tweed Valley
Hillside Outside Ltd, the organisers of TweedLove bike festival and Triple Crown enduro series, have announced they will be hosting the British Enduro Mountain Bike Association's 2018 British Enduro Championships, with Whyte Bikes as the title partner.
The race will be held in the Tweed Valley over the weekend 9-10 June, and organisers are promising a big production for the event weekend. "This is a really important race for UK enduro and we'll be pulling out all the stops to make sure it's worthy of becoming the most significant Championship in British mountain bike racing," says event director Neil Dalgleish.
"The British Enduro Mountain Bike Association organisers have agreed the race will move around the 'home nations' annually, giving different venues and organisers the opportunity to showcase their trails and race production. We're proud to announce that Scotland and the Tweed Valley will be hosts for 2018, and we're working with forestry officials and landowners on a course which we hope will showcase the best riding in the valley, with stages befitting of a classic British Champs race. We have some awesome trails here, so it should be a fantastic event."
Enduro is currently the most popular race discipline in UK mountain biking so demand for places on the start list is expected to be high. "We want this annual race to be a pinnacle of the UK enduro calendar, so that's how we'll approach the production of it," says Neil. "The event is timed to coincide with the big TweedLove bike festival weekend, so it's going to be a real celebration of trail riding in what we believe is the spiritual home of UK enduro. We're keen to help build the reputation of a race which represents top rung racing in British MTB's most popular discipline, so it should provide a real test and challenge for riders, in a friendly spirit, and on some of these islands' best trails."
UK bike brand Whyte Bikes were "the natural choice" to be headline sponsors, as Neil explains: "Whyte Bikes' success over the last few years has been incredibly impressive and we've enjoyed working positively with them in the past. Their bikes demonstrate how well they understand riders' needs in this country – we're proud to have such an awesome British brand as title sponsor."
Guy Farrant, managing director of Whyte Bikes said: "Whyte are delighted to support the 2018 BEMBA British Enduro Championships as title partner. Having worked with Neil on TweedLove we know his events are always well organised with a great vibe. We enjoy supporting enduro racing as it's both competitive and fun – as well as a perfect showcase for our UK developed bikes. This Championship event will see the weekend warrior rubbing shoulders with pro-elite sponsored riders and is set to be the highlight of the UK season."
The event looks set to attract many riders and a great deal of bike industry interest. Tweed Valley enduro races are already amongst the most popular in the country, with TweedLove's Triple Crown series the best attended enduro series in the UK for the last two years. The TweedLove team have useful experience of creating and managing some of the country's biggest mountain bike events, including hosting the UK's only two visits of the Enduro World Series to date. A full-scale expo and event village with a packed weekend of entertainment and other bike events is also planned.
Entry details for the Whyte Bikes B.E.M.B.A British Enduro Championships will be announced shortly.
More info from Hillside Outside Ltd
Neil Dalgleish 07796 173939
Chris Wright 01721 588050
TweedLove Bike Festival
TweedLove Bike Festival is a multiple award-winning, two-week long celebration of all things bike and is 100% organised by cyclists. Created by local riders in 2010, it is now the largest bike festival in the UK, with events covering many disciplines of outdoor cycling. The festival's main activity is mountain-biking and it has hosted many of the UK's most successful enduro and trail/xc races over the last five years. It aims to showcase the Tweed Valley as the UK's best bike destination and plays a pivotal role in the region's tourism offer.
Featured in this Post
Comments