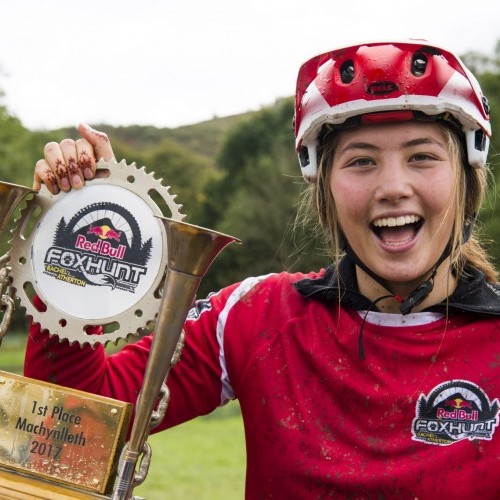 Red Bull Foxhunt 2017: Millie Johnset Storms to Victory
Mon 9th Oct, 2017 @ 12:30 pm
Red Bull Foxhunt, the world's only all-female downhill MTB event, returned this weekend on a brand new course in Wales with a new Fox, Katy Winton and over 200 female riders. A bad crash at the UCI MTB World Championships in Cairns, Australia last month forced an injured Rachel Atherton to pass on the baton to her Trek Factory Racing Enduro teammate.
"oh no she's overtaken me"
Entries for the 2017 event sold out in a record time of 12 minutes, and from what went on over the weekend it's easy to see why. The event took place in Rachel's hometown of Machynlleth (Wales) and the new technically challenging course tested the riders to the max as they tried to stay ahead of the fox, Katy Winton.
Rachel Atherton was on hand across the weekend, providing hints and tips to the riders as they completed their practice runs, encouraging the riders to get out on the track walk and providing her insights into finding the best lines.
Millie Johnset (NOR) rode to victory in 3 minutes 50 seconds. After the race, she commented, "It was so amazing, it was really fun. I'm so happy to win but I was also really pleased just to get across the finish line."
This year's fox said, "It was incredible, it is such an honour to get to come to this event and ride with a bunch of rad ladies who just went for it despite the weather. It was amazing out there today, [overtaking] wasn't too bad because they fell into a line and I was able to weave between them. It was so funny cause they were like "oh no she's overtaken me" but then they were like "ah go on then!". So yeah it's been amazing a part of this and seeing all the camaraderie amongst everyone. It's been great!".
Rachel Atherton said about the event, "Probably one of the best Foxhunts there's ever been. The challenging conditions just made everyone really dig deep. As they set off on the race they all found another level; more commitment and more determination and it was sick.
I was up at the start and then I got on the quad and we drove to the bottom as fast as we could so we could make it to the finish and I saw them coming across. Everyone was so proud of themselves today; seeing their faces and you know, that's what Foxhunt is about. Suddenly it all becomes about how they're feeling, it's all about the women and what they've achieved and like, it's so cool. I'm so proud of them all really."
Results:
Millie Johnset 00:03:50
Rosy Monagham 00:04:23
Claire Bennett 00:04:25
Hannah Saville 00:04:29
Alice Grindheim 00:04:34
Sofia Christiansen 00:04:40
Toni Fryer 00:04:44
Liz Gath         00:04:45
Emma Parkes 00:05:00
Ami Grindley 00:05:01
Featured in this Post
9,804
326,422
1,642,047
Comments