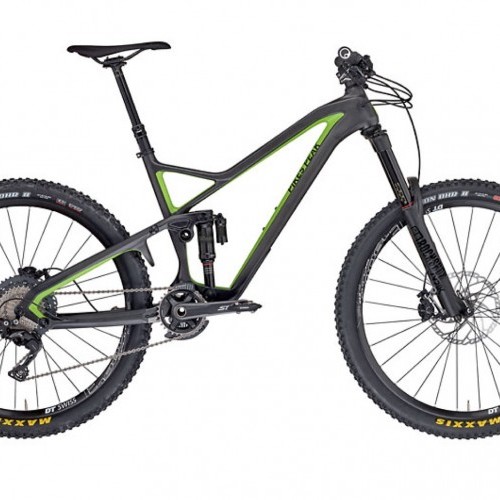 Rose Bikes Pikes Peak 2018
Tue 10th Oct, 2017 @ 12:30 am
German bike sweet shop, Rose Bikes, has just released details of its new Enduro/AM machine the Pikes Peak, featuring a very interesting gizmo for changing the bike's set up mid-ride.
Trail bike and enduro racer in one – our Pikes Peak redefines the term 'quick-change artist'! This is thanks to an extremely versatile carbon frame that can be adjusted to either form an all-mountain bike with 150 mm of travel or a 165 mm enduro racer. Besides, the Pikes Peak is the first bike to use our new PROgression and GEOmetry technology. With a flick of the wrist, geometry and rear stay characteristics can be adapted to the prevailing terrain on the fly – easily and with maximum effect. The bike shows a top performance in both disciplines. The lightweight 2380 g carbon frame is equipped with 27,5" tyres that offer good grip and high agility. A 1x drivetrain system serves both trail and enduro pilots. A bike with lots of possibilities – ready to conquer the mountains at high speed!
Pikes Peak – our trail chameleon!
Pikes Peak EN
Enduro at its best – the PIKES PEAK gets to the heart of it! Equipped with 165 mm of travel at the rear and 160 mm at the front, the bike also feels called to rock toughest trails! Of course, the PIKES PEAK 1 EN also has the right equipment to do so. Here you can find everything to let it rip: A RockShox Lyrik RC at the front and a RockShox Super Deluxe RC3 rear shock make every tough trail look small! Robust DT Swiss E 1900 Spline wheels with Maxxis Minion DHR2 tyres in 2,3 inches offer best enduro performance and a RockShox Reverb Stealth dropper post provides additional riding dynamics. The cockpit comes with great parts of the Spike Race series by Spank: individual, robust and durable. The rear derailleur bears the name Shimano XT, shifters and brakes are labelled SLX – an intelligent combination that promises high reliability and performance!
Features
160/165mm travel
2380g frame weight
PROgression and GEOmetry technology
From £2947.72
Pikes Peak AM
Our quick-change artist as all-mountain version! With 150 mm of rear travel, this bike can show its full potential on the trail. The suspension fork comes from RockShox, the Pike is a legend with an excellent compromise between stiffness, weight and travel. The rear stay is controlled by a RockShox Super Deluxe RT3, a real Deluxe tool with a 3-position compression that can be used in an open, closed or "pedal" mode. The cockpit is made by the German company Spank. An 800 mm wide Spike Race handlebar and a matching Spike Race stem always ensure best control. The gears are changed by an excellent Shimano XT rear derailleur, the rest of the groupset bears the name SLX. These three letters stand for sophisticated, advanced technology, durability and a great value for money.
Features
150mm travel
2380g frame weight
PROgression and GEOmetry technology
From £2861.00
Featured in this Post
Comments