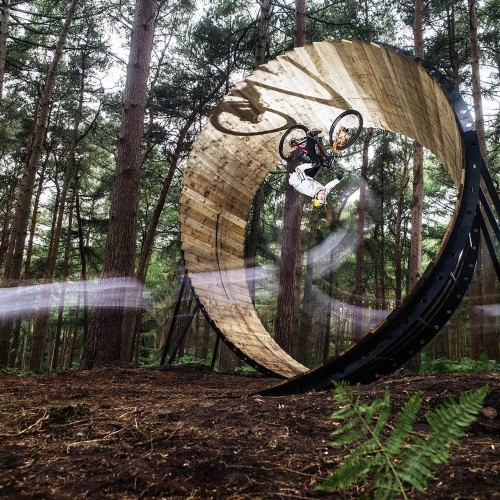 Through the Eyes of an Athlete: Matt Jones | Frames of Mind
Tue 14th Nov, 2017 @ 6:59 am
Can anyone explain to me WTF just happened? Matt Jones is meeting himself coming back in this latest cracker from Red Bull; a mesmerising, trippy run through the trees with some neat camera wizardry! GET IT WATCHED!
Today sees the launch of rising freeriding star Matt Jones' first production entitled Frames of Mind. The film, which uses gripping rotoscoping techniques, shows how Jones visualises tricks and pushes MTB freestyle skills to the very limit, providing a fresh view into how elite athletes use sports psychology to compete at the highest level.
Five world Firsts; Bum Slide, 270 Rim Bonk, Hitching Post Flip to Feet, Decade Tsunami, Backflip Superman to tuc no hander
Rotoscoping technique is used to show the psychology of what it takes to perform at the highest level
Partnership with leading sports psychologist Gary Grinham was the inspiration behind the film
Filmed on his own purpose built trail at Rushmere Country Park, the latest film sees Red Bull's young gun demonstrate unique tricks including world-firsts in freestyle mountain biking: Bum Slide, 270 Rim Bonk, Hitching Post Flip to Feet, Decade Tsunami, Superman Backflip to tuc no-hander.
"I can figure out so much about a trick just by visualising it; working through the physics in my head and imagining how it feels."
Within the film, an advanced editing technique 'rotoscoping' was used by Cut Media to enable the audience to see what going through Matt's head as he prepared for seemingly impossible tricks. This required an intricate process, cutting out countless sequential frames, in order to create the floating 'traces' seen in the final production.
As an athlete in a high-risk sport, Matt Jones works closely with top Performance Mentor Gary Grinham to help him maintain a winning mentality in the run-up to competitions and in his comeback after injury. Grinham commented: "The most important thing that you must do is accept the worst possible outcome. You will never perform your best if, while you are competing, you are thinking about getting hurt. Once this is done, it will allow you to perform free and without worry."  Their partnership was the inspiration behind the film. Matt Jones was forced to visualise his tricks with very little physical practice when he broke his wrist following a crash at Crankworx Rotorua, weeks before filming started.
Matt Jones, now 23, has been mountain biking since the age of ten, spending as many hours building jumps as he has riding them. He first emerged onto the British dirt jump scene while still at school, before winning his first international competition in 2016.
Jones commented: "Landing a trick you've been building up to is the best feeling. It's all about visualisation. Once it feels familiar it comes down to getting on my bike and trying it for real. From take-off to landing, you can run through it all in your head before you get in the saddle. I already know the jump work, height limitations, airtime; the entire trick from start to finish. I can figure out so much about a trick just by visualising it; working through the physics in my head and imagining how it feels."
Featured in this Post
Comments