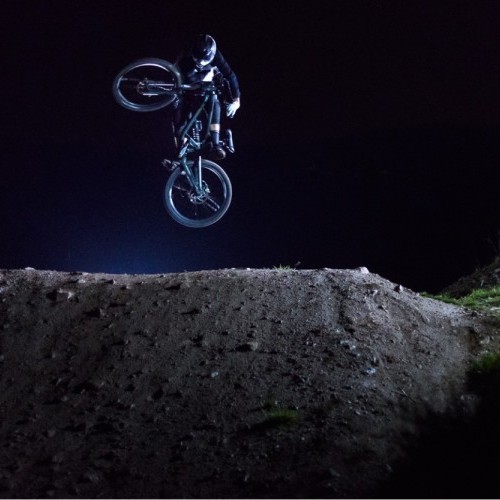 Eliott Lapôtre: Versatile Furious
Tue 14th Nov, 2017 @ 12:30 am
Stop everything and watch this now! MTB films just went up a notch. Roosting his way through the darkness with a finesse and speed we can only dream of, this is Eliott Lapôtre on board the Commencal Furious. Stunning stuff from the boy.
Since the new Furious was here, we looked for the best way to demonstrate its versatility. That's simple, it goes wherever the rider wants to go. It leaves room for the pleasure of riding, simply. We imagined several scenes, several types of terrain that allowed us to express ourselves, both Eliott behind his handelbars and me behind the camera.
This is why the idea of a night introduction came. No nature, only the bike and the rider. We focus only on that. Then, we worked on a special night/day transition, we wanted an immersive and fast point of view, with creates surpise when the light come. The most complicated was not to see the lights in the field of view of the GoPro.
The goal was to gradually bring all types of terrain.
As usual, the video was made in the Vosges. The woods are a source of inspiration and a great place to ride a mountain bike. The introduction is followed by a loamy Vosgian track quite typical but mostly very fun and rather fast. Here is a kind of speed and style, Lapoire sauce. With a part realized in bikepark, and the second part in the atypical garden of Eliott.
And finally, what better than a beautiful freeride. A unique freeride, framed by nature. This was one of the most complex and relatively dangerous part. In terms of filming also, difficult to show the stiffness of the spot. Special mention on the last passage of Eliott, where pebbles have gradually piled up on the lower part of the descent, making the thing even more full-bodied.
Create movie with Eliott is always based on pleasure, even if this project was the heaviest (night shot, freeride shot, time, etc) it was really cool. Anf if you want to know more about this movie, check the behind the scene: https://www.youtube.com/watch?v=usL63m1zQZo
Bike Check
Commencal Furious
Sr Suntour RUX
Magura MT7
Box drivechain & grips
HT Component pedals
Onza Aquila tires
Featured in this Post
Comments