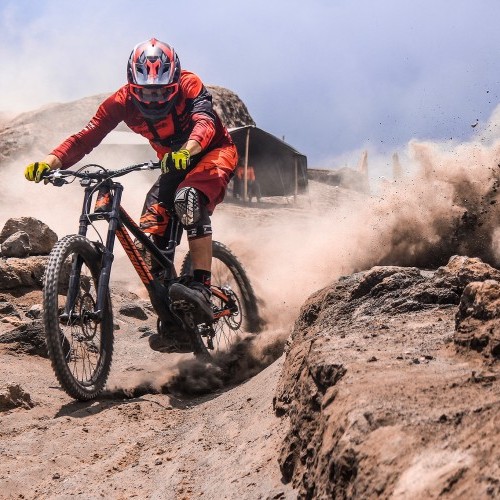 Downhill at Mount Bromo | Matej Charvat – MY RIDE #15
Wed 6th Dec, 2017 @ 12:30 am
Volcano riding on a DH bike – yeah, we'll have some of that! Don't scroll past this truly epic adventure film and an article packed with some amazing photographs.
There are not many of active volcanoes in Europe. We know them from movies, books or even just from the internet. Until I stood at the edge of an active crater, I just simply couldn't imagine the power, which is somewhere deep there under. This mission couldn't have happened without a bike and a camera.
The feeling when you are walking up the crater, feeling kind of little rumble, and you know something is happening deep in your body. Everything around is shaking a bit and the wind is blowing. Then you just look over the edge and you see something unimaginable. That is what I had a chance to experience few weeks ago in Indonesia.
After I finished the race in Klemuk, city of Batu, Java Indonesia (finals of Indonesian Downhill Cup 2017) I figured I would go on a mission to a nearby active volcano – Mount Bromo. The local guys, my second family from the Spartan Racing team, gave it the green light and everyone was really excited.
We had to start the trip around midnight so we could climb up to an opposite mountain, then walk back down and move to the crater of Bromo for some riding.
The views were just breathtaking and that is all I can actually say. Check out the video, which I managed to edit from the whole day's adventure. It was a long day which I am probably never going to forget. It wasn't just one experience, it was whole day packed full of a high intensity adventure. The biggest challenge was definitely the ride down that crater ridge.
Maybe it will not be apparent from the video, but I still get goosebumps when I see the footage now.
Featured in this Post

United States
209,208

United States
910,394

156
Comments