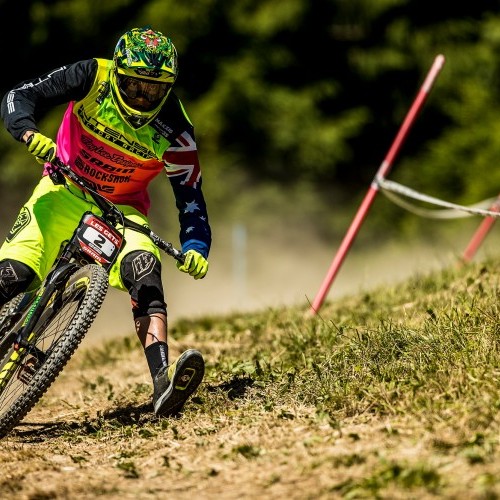 Steps to the Top – Jack Moir
Tue 5th Dec, 2017 @ 12:30 pm
Make no mistake about it, Jack Moir is serious about laying down fast times on downhill tracks wherever in the world they might be. In 2017, Moir took the 2nd podium spot at the World Cup in Fort William, and kept it close to, or inside, the top 10 in the UCI Downhill Mountain Bike World Cup — except for in Andorra. When he's close enough to a round of the Enduro World Series, and his schedule allows, he'll throw himself in the mix there, too, and he'll finish in the top 10.
"Well I'm always working on constantly everything. I never take the approach that I'm doing as well as I possibly can…"

– Kelly Slater
Watch him on the bike, though, and the tall Aussie's style make it look like he isn't really forcing the issue, almost like he's out for a warm-up lap. It's a look, maybe even a stigma, that many tall riders share, and Moir is quick to point that out. Look a bit closer at Jack's style, though, and you might be able to see an influence from surfing — which makes sense when you consider that the Intense Factory Racing rider has been riding waves on one form of board or another since he was old enough to walk out into the water by himself.
Ask him about his moniker "Shark Attack Jack" and he'll nonchalantly tell you a story about being bitten in the leg a decade ago. It was an injury that required roughly 500 stitches, but did little to keep him from getting back in the water and on the board. 

When injury derailed his 2015 season, Jack persevered, fighting back in 2016 to take one World Cup top 10 and the Crankworx DH overall title
Moir won the opening round of the Crankworx DH Series in Rotorua, New Zealand, and seemed poised for the repeat. That win, plus an 8th at Crankworx Les Gets and a 3rd at Crankworx Innsbruck meant he held the series lead going into the final round at Crankworx Whistler. 

Sometimes, though, the best you can do comes up short of the win. And short of the championship. And that's racing.
Jack is decidedly pragmatic about the whole thing. In his eyes, when you're healthy, you need to take advantage of it and race. And ride. And remember why you started doing all of this in the first place.

In Whistler, for example, even before the dust had settled completely, Jack was off for a few more laps with his mates. Sometimes the shark gets you, but you never quit.
Video by: Mind Spark Cinema
Photos by: Adrian Marcoux & Sven Martin
Words by: Joe Parkin
Featured in this Post
Comments