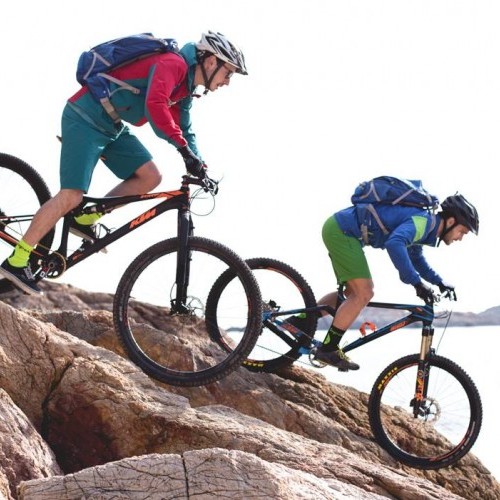 We Are Always Late: Via Ferrata with Bikes
Tue 5th Dec, 2017 @ 9:30 am
Win a Peaty's Complete Bicycle Cleaning Kit this issue in our FREE subscriber prize draw.
So you think you've seen it all? Turns out you can have a via ferrata adventure on a mountain bike! Check out the high quality bike packs strapped to their backs and the fun vibe going on. Plenty of dabs and sweaty palms going on here!
This past week a project has come to light in which the whole team has been working for a while. The video is shot in 5 different locations. The parts of via ferrata were shot in Sant Feliu de Guíxols (sea) and Centelles (mountain). For the bike stretches we went to Mataró, Sa Tuna (Begur) and "El Pla de la Calma" (Montseny). Finally, the locations of Castellar del Vallès and Sa Tuna (Begur) were used for the car intakes.
The filming
During 6 intense days, from "Cala de Sa Tuna" to the "Montseny", the whole video was filmed. The scenes of bicycle and car did not have any problem in particular, because it was a normal shoot. Not so with the stretches of the "via ferrata" as the cameras not only had to go recording but also make the way with all the equipment and go up, stopping at each part to get the right angle to record the shot.
"The part of the bridge really scared me and I did not act at all, the scary face was real"

– Tarrés
Little team with giant results
The riders are Pol Tarrés and Eloi Paré. Raimon Rosich and Adrià Calatrava made the recording and Aitor Lamadrid was in charge of the photographs of the entire project. The whole team agrees that it was a very fun project to do despite the difficulties that some shots had. We are all very happy with the results obtained and we hope to be able to keep up the good work and do more projects like this, since it is not only a creative but also a technical challenge that leads to impressive results.
Finally, we want to thank Nissan, KTM bikes, VAUDE and 29 Factory for collaborating and making the whole project possible.
Featured in this Post
Comments