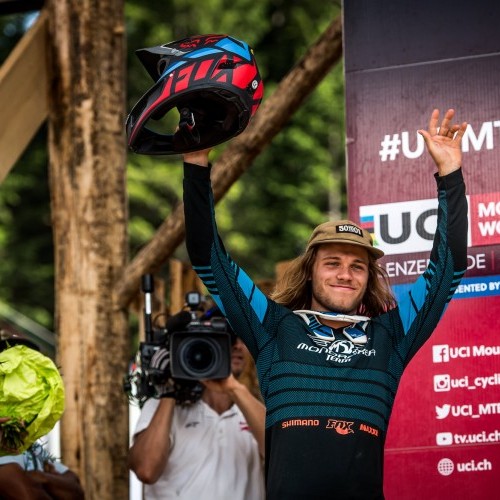 Laurie Greenland and the Comeback of the Bulldog!
Sun 14th Jan, 2018 @ 12:30 am
Mondraker finally announce the presentation of the 2018 MS-Mondraker Team. 2018 marks their 10th Anniversary as a leading brand in the World Cup Downhill scene and it will become their 7th season (since 2012) as the main-title sponsor for the MS-Mondraker Team led by Markus Stoeckl and Lukas Haider.
Greater, stronger!
Our rider line-up promise to deliver their very best and Summum Carbon Pro Team "the most successful and winningest bike at 2016 Worlds" is ready to tackle and tame the roughest 2018 downhill courses along the way.
MS-Mondraker 2018: Greenland, MacDonald and Jones join forces
With just 20 years of age Laurie Greenland is ready for his third season racing Mondraker Bikes. He really is in love with his Summum and after his 2nd position at Worlds 2016 and first World Cup podium in Lenzerheide 2017, Greenland is more focused for this new season than he's ever been. Brook MacDonald is one of the most popular racers of our decade and always a crowd favorite. His riding and powerful style return at his best for 2018 along with his beloved Summum, the same team and bike he achieved his greatest success to date, winning at Val d'Isere World Cup in France 2012. Mike Jones has signed with MS-Mondraker to prove why he is a podium contender on any race he enters. 5th place at Mount Sainte-Anne 2017 World Cup, with 22 years of age he belongs to the new breed of UK super talented riders and fits perfectly on the 2018 MS-Mondraker Team.
MS-Mondraker development program
The good news also for 2018 is the introduction of a younger team roster featuring the Norwegian Brage Vestavik, the Australian junior rider Patrik Butler, Italian Johannes von Klebelsberg and the Austrian rider Fabian Ulrich. All of them will also be racing our Summum Carbon Pro Team and promise to be writing some headlines during the downhill racing season of 2018.
MS-Mondraker Team 2018 sponsor list and race calendar will soon be published at the Team website page: http://www.ms-racing.at
Mondraker's CEO Miguel Pina on 2018 MS-Mondraker Team presentation statement:
"At Mondraker we are fully committed to downhill racing since our very first year and MS-Mondraker Team is the best representative of our brand racing DNA. 2018 is set to be an amazing season with a more experienced Laurie Greenland, Brook MacDonald "coming home" racing with Mondraker again, and Mike Jones who fits perfectly with our brand identity. And also the new 4 young rising stars who will also race our Summum Carbon and we are sure they will become "downhill wonders" and will offer big surprises for this new season. It's going to be an awesome year. Bring on 2018!"
Markus Stoeckl (CEO of MS-RACING): Since Brook left the team after the 2012 season I always had the vision to get him back on our program. Now with Laurie, Brook and Mike as podium aspirants and our developmental program with Brage, Johannes, Pat and Fabian we have been able to form a really strong team.
Here are the riders statements:
Laurie Greenland: "During my decision progress MS Mondraker and myself were able to but a really nice package together. I can't be happier with my decision to stay on this team- I always loved riding the Mondraker Summum and I can't wait to hang out with my old team mate Brook, Mike and all the others… it's going to be awesome! Bring on 2018!
Brook MacDonald: "I am beyond stoked to be back joining MS Mondraker a team where my career really kicked off. I'm excited to be going back to my old roots and I'm ready to create some new memories and some more podiums. Stoked to be back on a podium proven bike and back with my old team-mate Laurie Greenland! I'm really excited for 2018 and beyond with MS and the crew!"
Mike Jones: "As the 2018 season fast approaches, I am stoked to be a part of the MS Mondraker team alongside a great group of riders, mechanics and support team.
I have high hopes for the season ahead and the prospect of being onboard the race winning summon encourages me to further show my potential and gain the results I know I can achieve.
I look forward to seeing what the season ahead will hold for both myself as an individual and the team as a whole, and can't wait for it to all get underway!"
Brage Vestavik: "I'm really excited to be on the MS-Mondraker team. It's a great gang of riders, some of them which I have shredded with in the past. Really looking forward to working closer with and learning from them. Most of all I'm stoked to shred the Summum. I think the bike will fit my style perfectly, and it's built up with all the components I would choose for my dream build. Can't wait to get started! Skrrrrt"
Pat Butler: "I feel incredibly lucky to have been chosen for the Mondraker team and can't wait to learn some tips and techniques from my awesome team mates. My goal for 2018 is to get at least one podium (or more), well maybe in the top 5 would be fantastic. I am looking forward to an great riding year with a world winning team."
Johannes von Klebelsberg: "I'm super motivated to ride this season in a professional racing Team! Being in the same WhatsApp group with such great names like Macdonald, Greenland, Jones and so on is pretty cool! Riding the Mondraker Summum is great and it's actually the first time that I ride a carbon fiber downhill bike. I'm sure that this bike is fast and I hope I'll be as well!"
Fabian Ulrich: "I was surprised when I have heard about this team coming together. There are some big names in the lineup and I hope I can benefit from riding with my new team-mates. It's such a honor for me to have the chance of being in the development program of the top level world cup team such as MS Mondraker.
Featured in this Post
Comments