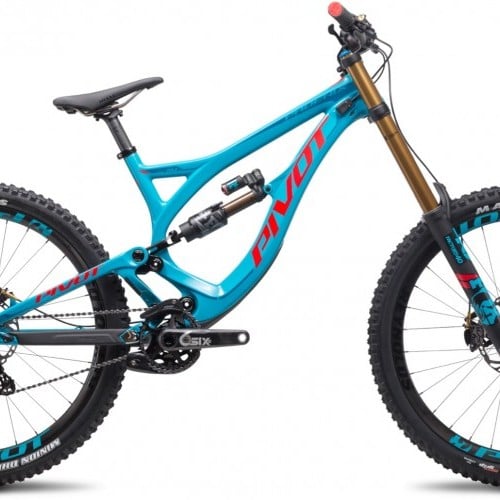 2018 Pivot Phoenix Carbon DH: New Colours, Same Fast, Same Strong
Fri 9th Feb, 2018 @ 3:30 am
The Phoenix Carbon DH continues to set standards as the lightest, fastest and most technologically advanced downhill bike available. The Phoenix is back for 2018, featuring progressive geometry, unrivaled suspension and one hell of a track record.
When Pivot Cycles debuted the Phoenix Carbon DH, the bike defied conventional wisdom.
Here was a sub-31 pound DH bike with leading-edge geometry configured around 204 millimeters of dw-link™ suspension. DH bikes weren't this light. Their geometry didn't push the "long and low" boundaries this far. They didn't need a suspension famous for this kind of pedaling efficiency…. But then the Pivot Factory Racing team kept racing the Phoenix Carbon right onto the podium. The Red Bull Hardline, Fort William, Leogang, Lenzerheide, plus Crankworx Innsbruck, Les Gets and Whistler—the Phoenix Carbon rocketed riders to the steps at all those events in 2017 and is poised to do so again.
"If you compare the Phoenix to a lot of models on the World Cup circuit," says Pivot Cycles President and CEO, Chris Cocalis, "this bike is solidly on the leading edge in terms of geometry, weight and strength."
The Phoenix is equipped with a meticulously shaped carbon frame. Features such as the massive downtube and double wishbone rear triangle maximize stiffness and precision. The bike also boasts 204 millimeters of suspension, courtesy of Dave Weagle's acclaimed dw-link™ design.
"The dw-link™ is key," says Cocalis. "The anti-squat and variable wheel travel path enable us to create a bike that pedals better than any other downhill bike. And since the Phoenix doesn't squat down deeply under pedaling force, we can lower the bottom bracket height and slacken the head angle. You get the best performance in the most technical sections of the downhill without striking your pedals everywhere else on the course. The Phoenix is a World Cup missile, but it also works amazingly well at the bike park."
For 2018, the Phoenix Carbon will also be available in two new colors—Aqua Blue with red accents or Sterling Silver with bold yellow highlights.
Pricing, Specifications, and Availability
The new Phoenix colours are available in the UK from Pivot dealers in a few different configurations: Frame only £3500; Frame kit £5450; Zee Build £5350; Saint Build £7050; Saint Carbon £8100.
For more information, visit http://www.pivotcycles.com/bike/Phoenix-DH-Carbon.
Featured in this Post
Comments