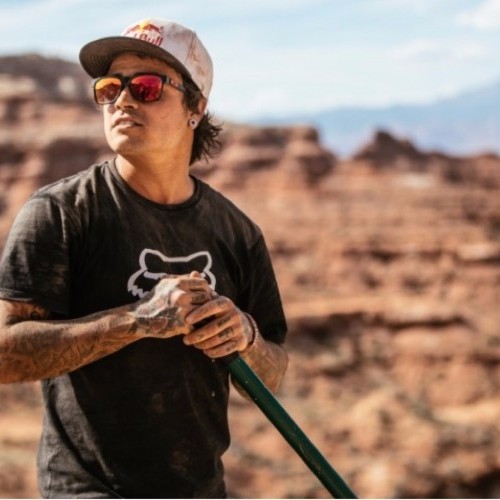 Introducing The YT Family 2018
Mon 26th Feb, 2018 @ 12:30 am
At YT, we're not hiring athletes, we keep on building a family. United by the YT state of mind, not defined by boundaries. We are stoked to be represented by each of them: Riders who stand out as legends of the sport. Rookies who burst onto the scene, blowing people's minds. A bunch of characters showing what riding bikes is all about and what YT stands for.
Live uncaged.
Andreu Lacondeguy
No one to better represent good times than Andreu! He has been with YT since the beginning and we are stoked to keep him in the family for 2018 and beyond, sick man!!
Cam Zink
World record backflips, massive 360s and breath-taking rampage runs, Cam keeps raising the bar on what seems to be impossible and we are proud to continue having him on the team.
Ethan Nell
Most impressive Rampage Rookie, rising freeride star, no matter what you call him, the Utah local came out of nowhere and is blowing minds with his massive style! We are happy to welcome him on the global team!
Brett Tippie
Even good times need a director, who else than Brett Tippie could be the right one for the job!? Being the epitome of our spirit he is, we are more than happy to continue with Tippie on the front lines of mountain biking.
Rob Warner
Between legendary commentating at World Cup races, shenanigans on and of the bike and pub guiding tours we are stoked to welcome Rob to the YT Family!
Bryan Regnier
Bryan has been a big part of the YT Family and our communication in the past and besides racing selected EWS races he continues to be the face of YT, shredding every bike we have in our stable with effortless style.
Yannick Granieri
French father of slopestyle, Yannick keeps being an awesome ambassador of mountain biking and will keep to casually throw down on massive jumps and ripping through the European mountains, there is definitely more to come from Mister Granieri.
Adolf Silva
Prince of La Poma, best trick winner at Taxco Urban Downhill and all round wild man Adolf Silva has his sight set for big things in the years to come! Expect being stoked, as Adolf is just getting started to leave his mark on the international scene.
Jordie Lunn
Jordie is the definition of balls to the wall gnar! Destroying the woods in "Rough as Fuck" and boosting his TUES over massive FEST jumps in the past, 2018 will be a year to watch out for Jordie.
Ace Hayden
Laid back Canadian style and always a big smile on his face, Ace continues to represent the good times! We are happy to see him shred with us in the future.
Austin Warren
Massive moto whips and always on the gas, Bubba will fight for the King of Crankworx title while getting his name out there on the Crankworx World Tour. Watch out Best Whip judges.
Vali Höll
After years of building her race craft on the mountains of Saalbach (Austria) and winning several European Cups, beating boys and elite woman along the way, Vali is looking forward to race her first UCI DH World Cup season as a junior and show the world that she is one to keep an eye on in the future! We are proud to continue as her official frame supplier as part of our sponsorship of SRAM's new race team which will be announced in the upcoming weeks.
Bienvenido Aguado
La Poma local and pioneer of double front flips, Bienve continues to represent the roots of YT, putting the DIRTLOVE to good use with his super smooth style!
Erik Irmisch
European Cup veteran, R&D multitool, Kebab aficionado and all around stoked individual is the good spirit of the YT Family and has been riding for YT since the first TUES.
Richie Schley
Freeride Mountain Bike Pioneer, MTB Hall of Fame member and globally known face of mountain biking. When he is not schleying the trails around Laguna he will be supporting us to establish our new operation in the US and be part of our US Demo Tour. Richie knows how to properly enjoy the Californian Lifestyle and we are happy to welcome him to the YT Family!
The YT MOB
At the core of YT the MOB is going into the third year under Martin Whiteley's leadership. Spearheaded by Aaron Gwins ongoing quest for greatness: With Neko Mulally and Angel Suarez following his every step on how to dominate the game.
Aaron Gwin
The chainless wizard and five time Overall UCI DH World Cup winner is again the guy to beat for the top step of the podium, going for the championship hat-trick Aaron will make the earth shake again while he pilots his TUES down the most challenging tracks of DH racing.
Angel Suarez
After two years filled with injury Angel is all healed up and ready to unleash his full potential on the downhill racing circuit, proving his speed and establishing himself on the scene.
Neko Mulally
Besides boosting the US downhill racing scene to new heights with his own PRO GRT race venue, Neko is ready to attack a new season of racing the world's best to prove he belongs into podium territory.
Featured in this Post
Comments