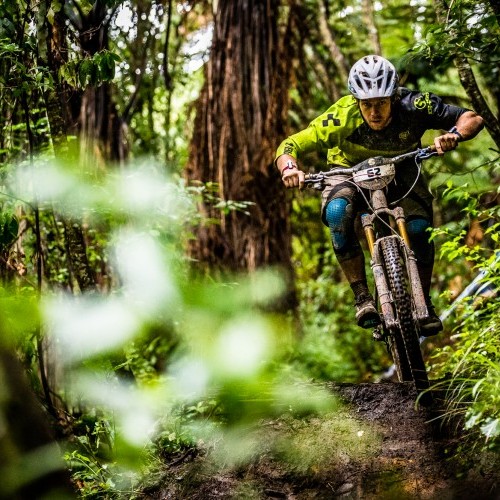 New Bliss Minimalist+ is Here
Sun 25th Feb, 2018 @ 3:30 am
Win a GO3 Camera by Insta360 this issue in our FREE subscriber prize draw.
"Go BIG, Go FAST but always with PROTECTION" is the slogan of the Bavaria based company, Bliss Protection. Normally this means heavy and bulky protection. But Bliss Protection has proven this is not necessary any more! They launched their all new MINIMALIST+ KNEE & ELBOW pads, evolution of their beloved MINIMALIST KNEE & ELBOW pads.
An ultralight, breathable and flexible ARG solution.
You would guess taking away is easier than adding, but you a wrong when it comes down to minimalistic body armour. With slimmer padding coming more and more in common on the trail, Bliss Protection has already proven themselves a category leader. Their new MINIMALIST+ knee and elbow pad is an evolution of their former MINIMALIST pad.
With this new MINIMALIST+ KNEE & ELBOW Pads, Bliss has initiated a new decade of knee and elbow armour. These pads are lighter, more flexible and even more breathable than other alternatives on the armour market but are also CE level 1 certified at the same time. We all know there is nothing worse than a pad you can ́t trust in. Similar to all ARG products, from the Bliss product range, the guys from Bavaria are using their proven ARG one more time.
They spent the last 8 years to puzzle, question and rewrite the rule book in their S2 Lab, working on this unique formula. ARG is a unique synergy between active materials and innovative geometry. It has developed a new flexible system, that may be incorporated directly into the garment to protect the human body against impacts and abrasions. It comprises of revolutionary materials, which stiffen upon impact to provide protection, but flex with the musculature of the body when protection is not required, thus combining safety with comfort. ARG is both very flexible and very effective.
With their latest 3D mold technique Bliss Protection is on top of their game. It may sound easy to give a piece of silicon based material a three dimensional shape, but it ́s definitely not. The 3D shape gives the user a genuine advantage when it comes down to fit and protection. And if this is not enough Bliss Protection came up with another innovative design feature. Instead of a slack piece of lycra material, they stretch the fabric horizontally before they put it in the mold and keep the fabric under tension while pressing. This enables the pad to fit really close around your joint, like a second skin, without adding another strap to the mix. This gives the pads their distinctive rolled up look when they aren't being worn.
These 3D pre tensioned ARG pads are fixed on a slightly longer lycra sock (compared to the previous version) with a mesh insert in the knee and elbow hollow. The asymmetric pad and ergonomic sock is fixed by an elastic strap. To keep the pad where it should be, Bliss Protection gave the MINIMALIST+ pad silicon dots at the top and bottom. They fit skinny and comfortable without any restricting Velcro.
The MINIMALIST+ pads are comfortable to wear even on long and sweaty rides. As the name implies, the ARG MINIMALIST+ KNEE & ELBOW Pads are covering the knees and elbows with just a minimal layer of ARG impact protection that's easy to pedal in. Your buddy for your next trail ride! And to spice this total package up, the MINIMALIST+ knee pad has already won a couple Enduro World Series titles and one King of Crankworx.
Bliss MINIMALIST+ KNEE & ELBOW PADS – the benchmark of trail pads:
• FLEXIBLE, SUPER SHOCK ABSORBING ARG PADDING
• ASYMETRIC 3D MOLDED PAD
• ERGONOMIC, ASYMMETRICAL CUT FOR A PERFECT FIT • ELASTIC & COMFORTABLE
• CE LEVEL 1 CERTIFIED
• SLIP-NOT SILICON DOTS ON TOP & BOTTOM
• ERGOFLEX
• AIR CIRCULATION SYSTEM
• SLIM PEDDING
• UNISEX
Size: XS/S/M/L/XL
Colour:Black/Blue
Retail: Elbow: $64,90. Knee: $84,90
Featured in this Post
Comments