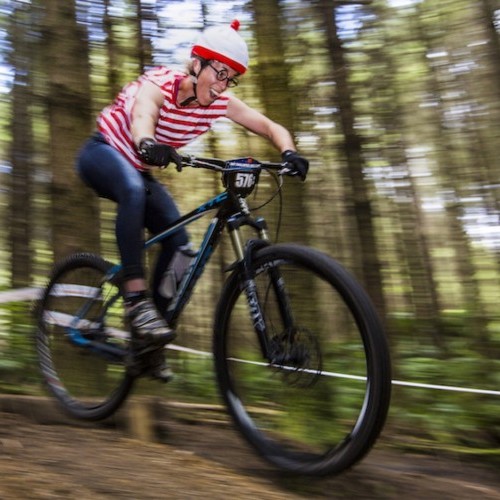 Singlespeed World Championships Supports Suicide Prevention
Sun 11th Feb, 2018 @ 12:30 pm
An eccentric and flamboyant mountain bike event has resulted in a windfall for suicide prevention. The Rotorua Singlespeed Society has made a donation of $20,000 to Lifeline Aotearoa after the success of the 2017 Singlespeed World Championships last November with 499 entries from round New Zealand and the world.
"Singlespeed events are mainly about having a laugh and dressing up to race around the forest on one-geared bikes," said Society president, Gaz Sullivan. "To be able to make a contribution to something as serious as suicide prevention is a considerable bonus."
Lifeline Executive Director, Glenda Schnell is thrilled by the contribution."The Society's donation will help 800 people needing support," she says. "Our helplines are available 24 hours a day, 7 days a week, and with no government funding we rely solely on fundraising and community support to respond to every caller, reduce distress and save lives."
Lifeline receives over 10,000 calls per month. "We help an average of 6 people who are imminently at risk every day," Ms Schnell added. "A caller recently told us 'I just wanted to thank your team for helping me out during a very tough time over Christmas, I have you to thank for my continued safety and wellbeing.'"
The Singlespeed Society is also donating $3000 in signage and equipment to the volunteers working bee crews who help maintain the Rotorua mountain bike trail network.
"They're the people on the ground, literally, giving up their own time to make our trails some of the very best in the world," added Sullivan.
The Society committee has a final $6000 to donate which is still under discussion. "We're looking at other options in the mental health area," said Paul Laing from the Society.
Long-term sponsors are a big part of the Society's success. "Local businesses, charitable trusts and Rotorua Lakes Council all help make this possible," Laing continued. "The donations we're making are in their names and on behalf of all the riders and volunteers who make it happen."
Since 2008 the Society has run three New Zealand and one Anzac Singlespeed Championships, as well as the World Champs for the first time in 2010. Including this year's donations, they've given over $60,000 to various charities. "We're a part of the community and they support us," Laing added. "So, we support them right back."
The Society is also backing the 2018 New Zealand Singlespeed Champs, which will be in Waihi on Saturday April 21.
Featured in this Post
United States
910,394
101,625
Comments