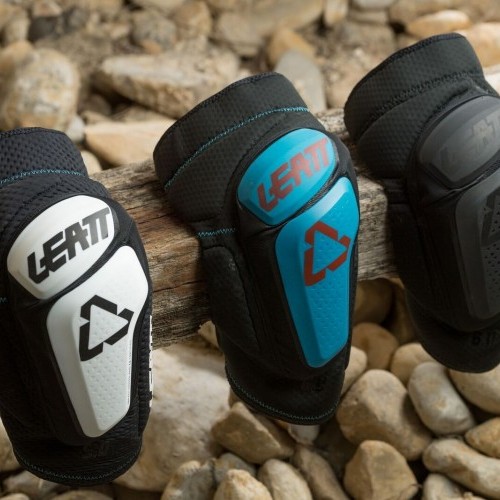 Soft-Hardcap Pads: Leatt 3DF 6.0
Sat 10th Feb, 2018 @ 3:30 pm
The inventors of the Leatt-Brace® just launched a brand new 3DF 6.0 Knee Guard as part of their 2018 line.
It's purposely-designed to combine the best of both worlds: a classic soft protection construction covered by two hard shell sliders.
One main hard shell slider covers the upper shin / kneecap, followed by an additional hard shell slider along the top of the kneecap. Leatt's 3DF-foam is designed to take care by dampening all the hard knocks, you have in store for it. It has been used within Leatt's soft protectors for many years.
Sliding characteristics on rough terrain are improved massively
Related impact forces are reduced
Knee pad does not slip during crashes
Pedaling-friendly (split / two hard caps)
Whilst still offering good ventilation due to perforated main fabric (front) and very breathable mesh (back)
3DF main padding used to dampen the big knocks (CE certified as knee protection level 1 = EN1621-1)
It is said to improve sliding characteristics on rough terrain massively, so the impact forces are reduced, and the knee guard does not slip during crashes.
The DBX 6.0 knee guard continues to be pedaling-friendly (split / two hard caps), offering sufficient ventilation due to the new thoroughly perforated main fabric at the front and very breathable mesh at the back.
There is one Velcro strap at the thigh with a silicone grip lining on the interior, as well as an anti-slip band located at the top of the calf, guaranteeing a solid fit.
This enables a classic, snug pre-curved fit that ticks the comfort boxes, with proven 3DF main padding, adding the advantages of hardcap protectors.
Now available, in three colorways: black/white, black/blue (fuel), and all-black, for €99.99 / £86.99.
More Info can be found on: leatt.com/dbx60kneeguard
Featured in this Post
Comments