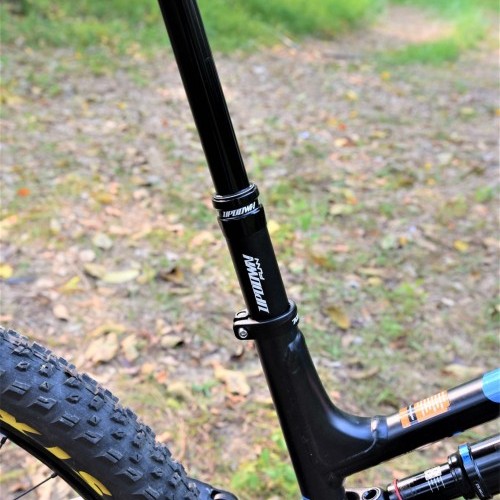 Funn Launch New UpDown Dropper Post
Tue 17th Apr, 2018 @ 12:30 pm
Win a GO3 Camera by Insta360 this issue in our FREE subscriber prize draw.
Do you use a dropper? Probably the single best invention for mountain bikers since the invention of, well, the wheel, MTBs without droppers just look plain odd! So here's the latest incarnation of Funn's UpDown for your delectation.
Adjustable seatposts with IFP based cartridge have a tendency to draw air into hydraulic chamber over time, resulting in seatpost sag when sitting on it. These problems can only be cured with cartridge replacement.
The new UpDown adjustable seatpost by FUNN utilizes a revolutionary Twin Tube Cartridge system. The cartridge has outer and inner tubes that contains compress air and hydraulic oil inside. The seatpost is locked when the actuator is in closed position. The hydraulic oil contained in the inner chamber supports the rider's weight. When the actuator is open and dropper is compressed, the oil flow from the inner chamber to outer chamber. And the compressed air enters the upper part of inner chamber. During the compresion phase, the unwanted air trapped inside the lower of inner chamber is repelled when the cartridge is compressed to full stroke. When the cartridge rebound from the lowest position, the compressed air would push the piston shaft upward. The hydralic oil is sucked into the inner chamber. This way the cartridge caneffectively reallocate both air and oil back to its proper designated locations in the system.
This ability to self-restore and refresh means less maintenance and enduring adjustability and performance. In an actuation cycle test, the seatpost underwent 30,000 cycles with no evidence of deterioration in performance.
Another feature of UPDOWN dropper is the revised 4-way trigger lever. The new lever has a longer leverage and infinite angle adjust compared to current version. This lever can be installed with the cable head at the lever end or under the dropper. It can also be integrated with SRAM Matchmaker clamp.
Specification
One piece forged 7050 alloy inner tube with hard anodized coating.
2-bolt type clamping
4-way mount remote lever
Diameter: 30.9mm / 31.6mm
Travel: 125mm / 150mm
Featured in this Post
Comments